Easy piano songs
Easy piano songs like these allow you to be playing the first song on the piano in minutes. This is not a miracle, but the skillful selection of simple songs for beginners makes it possible. Here you will find numerous easily arranged songs for piano and helpful apps as well as classical music books - for your first beautiful piano songs.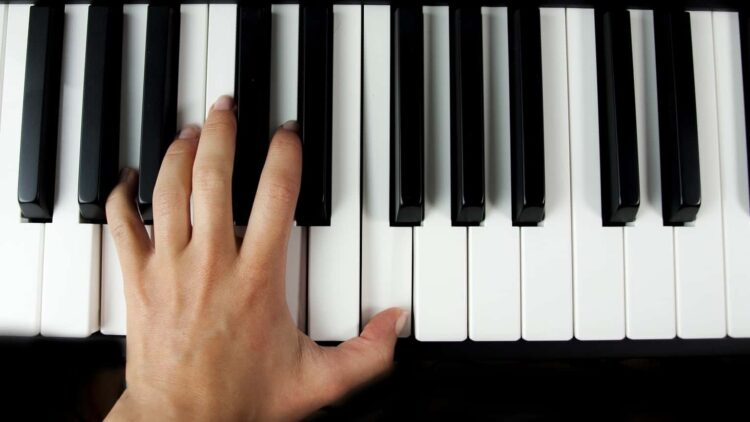 Easy Piano Songs: Nice Songs to Learn

By J. Florence Pompe
As a beginner, how do you find easy piano songs?
The range of piano sheet music is so large that you certainly won't see the forest for the trees. First of all, of course, every beginner looks for the songs he likes to hear himself. But these are usually not that easy to play. You can of course try it, but always make sure that you do not overwhelm yourself so that the motivation remains.
It's smartest to start with simple piano songs that you can play after just a few repetitions. This is extremely motivating and trains your fingers for the next challenges.
Especially as a beginner you always need a kick that drives you to keep going. Songs that are too difficult and also boring tend to lead to the initial euphoria saying goodbye and you might even stop playing altogether.
Why beautiful & easy piano songs are so important
Unfortunately, this happens very often when, for example, you have a piano teacher who demands too much. Instead of a piano virtuoso, you will become a piano grouch - even though you really wanted to learn this instrument at the beginning.
Having fun practicing and playing is incredibly important and is sometimes neglected by false ambitions in the teacher or student.
Classical pieces are always good for learning and as finger exercises. Maybe you are a classical music fan yourself, then you can choose from a huge pool of piano songs to start with. We have added a few must-haves to the list.
There are also some boogie-woogie / ragtime piano pieces. They have a great groove, cool harmonies and are also absolute classics in piano lessons, which should include several styles.
Also read: Practicing effectively counselors
The most beautiful simple piano songs for a quick start
For a rocket-like start on your new instrument, we've selected a list of cool, modern songs that you are probably already familiar with. So you know how they should sound and you can correct mistakes yourself.
There are also some rock and pop songs that are generally very popular and that you best add to your repertoire. Because of course it would be cool if you could soon be able to play off the cuff at festivals and parties on the piano or keyboard, songs that the guests know and love.
First easy piano song
Piano songs such as "Only If" by Enya are suitable for playing melodies. Here you have a nice, not too difficult melody and a fairly simple bass line. If you've already mastered this, "I am sailing" by Rod Stewart would be a good choice, provided you like the song. Here the right hand also has to reach out.
The bass line is particularly difficult for most people when playing the piano. If you play the "Song Stand by me" by Ben E. King, you train your left hand more, because the bass is very important and formative here.
Tip: As a beginner, you first take pieces in 4/4 time. If you have mastered this, you can climb a nice new hurdle with Ed Sheeran's "Perfect", for example. The piece was written in 6/4 time, which is not too difficult, but still a challenge for beginners.
In most cases, you can find the sheet music for the songs free of charge on the web.
Modern songs for piano and rock / pop classics
Game of Thrones - Ramin Djawadi
Someone like you - Adele
Despacito - Luis Fonsi
Lay me down - George Shomali
Shallow, a star is born - Lady Gaga
You've got a friend - Megan Harper
Hit the road Jack - Ray Charles
Piano Man - Billy Joel
Lord of the rings - Howard Shore
Hello - Lionel Richie
Love of my Life - Queen
Hallelujah - Leonard Cohen
Dancing Queen - Abba
Nothing else matters - Metallica
My heart will go on - Celine Dion
I just call to say - Stevie Wonder
Lost in Japan - Shawn Mendes
Imagine - John Lennon
My Way - Frank Sinatra
Sound of Silence - Simon & Garfunkel
Let it be - The Beatles
Over the rainbow - Judy Garland
Your Song - Elton John
You can find some of the scores online on the following websites: at OpenMusicSchool / at MuseScore
Easy piano songs: boogie-woogie songs for piano
Maple Leaf Rag - Scott Joplin
The Entertainer - Scott Joplin
Speed ​​Sail Boogie - The Red Key Makers
You can find piano sheet music for this on Noviscore, among other places.
Classical piano songs for beginners
Ave Maria - Franz Schubert
Pour Elise - Ludwig van Beethoven
A little night music - Wolfgang Amadeus Mozart
Pyotr Ilyich Tchaikovsky - Swan Lake
Song without words - Felix Mendelssohn Bartholdy
Rondo in C major - Ludwig van Beethoven
Impertinence - George Frideric Handel
You can find the piano sheet music here on the one hand and at Oktav on the other.
Also read: piano lessons online
Learning simple piano songs online - is that possible?
Naturally! There is a great deal of free learning and practice material available on the web for the most popular instruments, such as the piano and guitar. So you can easily start and dare a little taster course first. If you have decided to stick with it, there are many options online to replace or supplement real face-to-face lessons.
Video tutorials with simple piano songs are extremely helpful in learning the first beautiful songs. We recommend that you try out the following videos directly.
"River flows in you" by Yiruma
"Perfect" by Ed Sheeran.
Of course, there are also paid online courses, apps and learning software for learning to play the piano, e-piano or keyboard. Check for yourself whether you'd rather study like this or have a personal teacher. Both have their advantages and disadvantages.
A teacher can keep your fingers and back in the correct position while playing the piano. He also hears small mistakes directly. The teacher can motivate you well and use his wealth of experience to choose how he will support you in particular.
But it can also happen the other way around. A bad teacher can break a lot and take away your motivation.
Are you looking for a new instrument? E-piano guide
Tips for learning simple piano songs quickly
Regular, preferably daily, practice is ideal. A quarter of an hour every other day is still better than long practice sessions on just 1-2 days a week. So practice at the beginning as long as you feel like it. A little trick: just 10 minutes a day will get you ahead.
Every now and then, play something to others to check your progress. Also online. You can measure your progress in forums and groups by posting cell phone videos of your piano playing.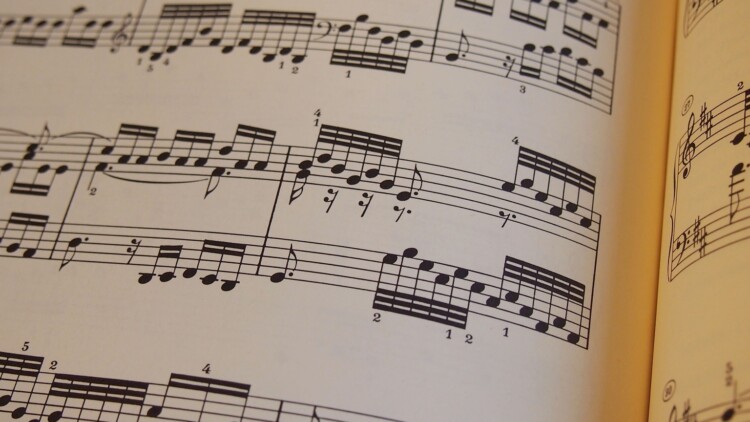 Easy piano songs to learn: the blacker the sheet of music, the more difficult the piece.
Learn notes & chords
Learning to note music makes it much easier for you to quickly play all of your favorite pieces. Of course, you can also try to start by ear or memorize the key sequence using online courses and apps. But this is basically so exhausting, also for the brain, that the motivation quickly fades. There is good material for learning grades. You start with very easy sequences and soon you can also read more complex notes.
Also read: learning chords
What criteria are used to choose piano songs for beginners?
The difficult thing about playing the piano is coordinating the two hands. Each hand plays its own melody, sequence of notes, its own rhythm. You don't have that with any other instrument. The right hand always plays the main melody, while the left hand presses the chords or plays a bass line.
In order not to be frustrated and overwhelmed as a beginner, you should choose simple piano songs. From experience we therefore take those with a simple melody for the right hand and where the left hand is not too much of a challenge. Pieces with not too many chords and simple bass lines are best. Later it can be more difficult.
rhythm
The rhythm can also be tricky. Difficult rhythms are absolutely unsuitable for beginners who are still looking for the individual notes on the keyboard. So leave out pieces from your selection that have triplets and too many rhythmic changes. You quickly recognize a simple score and see: As soon as there are many sixteenth notes, dots and rests, these songs are not suitable for beginners.
Melody & harmony
The tones of the melodies should also be relatively close to one another. On the score you can see whether the pitch of the notes is quite large and whether there are often jumps. This is still too difficult at the beginning, because you then have to look on the keyboard to find where the notes are.
First play pieces with not too many accidentals, i.e. b and # - you can find these notated at the beginning of the song at the bar. This cannot be avoided entirely, but two of them are often too difficult.
Popular apps including simple piano songs:
Sheet music with simple piano songs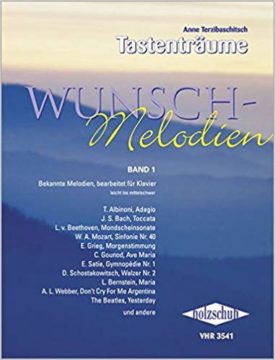 Wish melodies (by Anne Terzibaschitsch)
Over 100 well-known themes and melodies arranged for piano. Easy to moderately difficult melodies. The left hand is not too difficult to play.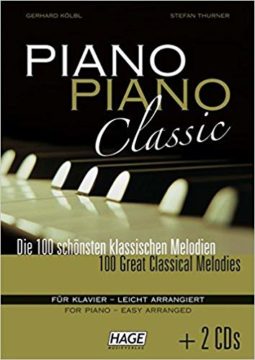 Piano Piano Classic with 2 CDs
The 100 most beautiful classical melodies for piano - easily arranged with popular and beautiful melodies and simple piano songs: baroque, Viennese classic, romantic and the 20th century. Easy piano arrangements. All melodies as a learning aid to practice listening to on the enclosed 2 CDs.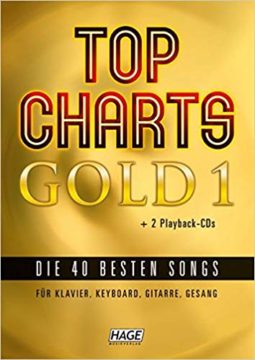 Top charts gold. The song and performance book with 2 CDs
Indispensable collection of the 40 best pop songs of recent years. All titles are easy to play, easy to moderately difficult. Piano arrangement and for keyboard players, guitarists and singers a melody part with chords, full text, sound suggestions, rhythm information and tempo instructions. With playback to sing along and play along.