How do we make search engine submissions
Improve your website traffic
and Grow your business with marketgoo
1. Sign up and receive an SEO report instantly
2. Get your simple SEO plan
3. Follow the simple step-by-step instructions
4. Start improving
Put your SEO plan into action (without the need for experts) and receive a monthly progress report
5. Track & Monitor
See how your competitors are ranking for the keywords you are focusing on and keep track of their website's popularity
Search engine submission
Connect Google Analytics
Download the SEO report as a PDF
Pages scanned
Competitor Tracking
Keyword tracking and optimization
Updated report & plan
Custom SEO plan
Monthly progress report
LiteBest value!
CHF 5.50 / mo
Search engine submission
Connect Google Analytics
Download the SEO report as a PDF
Pages scanned
Competitor Tracking
Keyword tracking and optimization
Updated report & plan
Custom SEO plan
Monthly progress report
ProBest value!
CHF 16.50 / mo
FAQs and Support
Should I choose Lite or Pro?
Watch a video comparison of the plans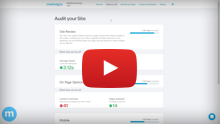 Will marketgoo make the recommended changes or do I do that?
marketgoo is a do-it-yourself tool. While we will help you analyze your website and make recommendations, as well as tasks and instructions to optimize your website, we will not make these changes for you.
Why do I need SEO?
You are working on your search engine optimization to improve the ranking of your website in search results. This results in more traffic being drawn in - and ideally, to convert that traffic into customers and leads.