The CD is dead, long live the CD. Who would have thought? The Germans remain loyal to optical storage media. Although streaming services and digital audio formats have been around for ages, the music in this country must continue to be tangible. The sale of physical sound carriers in 2016 still accounted for 62.1% ¹ of total sales in the German music industry. But why is the music CD still a successful model in Germany, while the silver discs in the USA² or in Sweden almost no longer play a role? This is mainly due to our Schlager fans. This made it possible, for example, that Helene Fischer was able to sell a million copies of her studio album of the same name in 2017 alone. The following of main competitor Andrea Berg doesn't think much of music downloads either. For this reason, the pair rhyme goddess succeeded in selling over 300,000 copies of her acoustic work "Soul Quake" in just four months.
Millions of viewers experience how Florian Silbereisen awards gold three times for "Soul Quakes". Free PR, funded by the fee payer.
Hildebrandt, Antje: Andrea Berg. Or: It all sounds totally the same. welt.de (01/2018).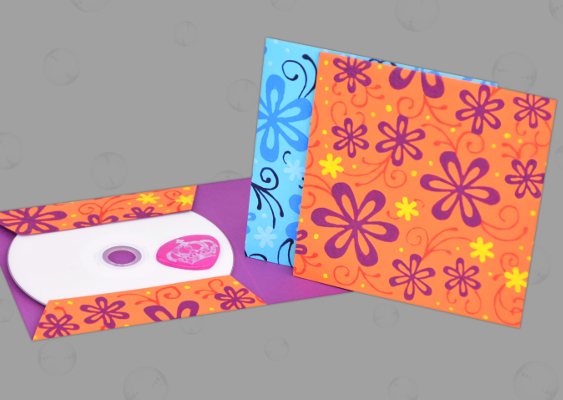 The Germans' dearest child will continue to ensure that the shiny plastic panes do not go out of style anytime soon. At least listen 99% the German citizen music while driving a car.
Only one percent of Germans do without music in the car - the majority sings and drums along cheerfully.
Tillmann, Michael: Almost every German listens to music in the car - but that can be expensive. fuldaerzeitung.de (01/2018).
But of course the Prussian virtues forbid keeping the valuable original storage media outside of one's own home. That is why they mainly turn themselves in German car radios burned Backup copies their rounds. Or how else can you explain that in this country, despite cloud storage and smartphones, 133 million³ blank CDs and DVDs are still sold every year?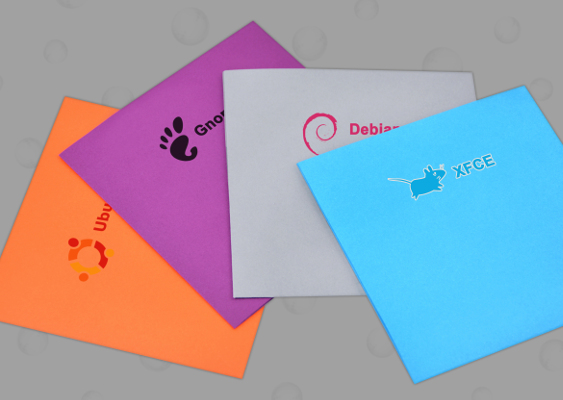 Nowadays, writable data carriers are almost only available in spindles, which in turn leads to Problems can lead:
Hi dear Veronika, I have a question for you! My dad works in newspaper sales and drives a lot, which is why I like to give him a mix of music that I have made myself. [...] The CDs are all lying naked in the glove compartment and are gradually scratching. That's why I would like to bring a creative system of order into the chaos. Could you perhaps tell me how you would make an eye-catching CD case that stands out from the commercially available paper cases with a viewing window?
Eschengerd, Constanze: A question about CD cases. Email from January 2nd, 2018.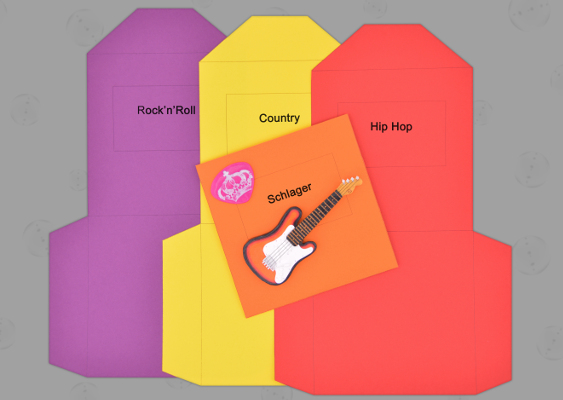 Except for the square shape, my resealable CD case has nothing in common with industrially manufactured packaging. After all, my creation is much more stable and colorful than the monotonous window covers. Furthermore, my archiving bag is made using an intelligent Folding technique assembled that does not use glue. In addition, my paper sleeve can be labeled on the computer before it is printed out, so that the dads of this world always have the right hit at hand.
If you only need a functional envelope for an optical storage medium, then print Just check out my pattern in PDF format. Then all you have to do is cut out the template and fold it into a CD case.
On the other hand, if you want to produce a more meaningful packaging right away, then you should take a look at my ODS file(LibreOffice) take advantage of. This form is namely editableso that you can fill out the title window directly on your computer.
Stable CD packaging contains floral ornaments
I wanted my square CD case to be particularly robust. So I printed the template right away twice, on each A4 sheet of construction paper. After cutting free, I glued the two paper blanks symmetrically on top of one another so that my envelope base had a tight grammage of 260 g / m².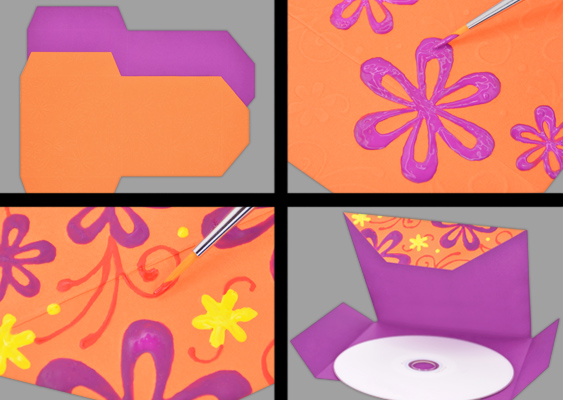 Next, I decorated my reinforced construction paper element with a floral pattern. To do this, I turned the piece of paper through my Sizzix Big Shot machine⁴, in which I had previously inserted a flower embossing stencil.
Immediately afterwards I took a folder and a ruler to use to close the four crease lines on the CD case fold.
Then I re-painted the protruding flower silhouettes on the outside of the media packaging with acrylic paints.
After the applied coloring had dried after about five minutes, I was able to get my CD pack.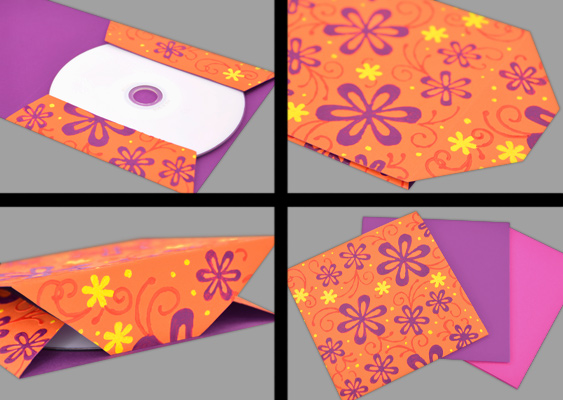 To do this, I first placed my storage medium in the middle of the side of the cover, which had two protruding wings. After I then covered the plastic disc with the two side flaps, worked Immediately afterwards I pull the long lid forward.
At the very end all I had to do was open the wide flap behind slide the CD in and my paper sleeve was tightly closed.
Tip: Do you want to keep your self-made archiving bag in a car? Then don't forget to seal the outside of the paper square with acrylic varnish after you've finished your handicrafts. Only then is your useful work of art permanently protected from frost and moisture.
Music CDs are often cheaper than MP3 downloads
Have you already noticed that physical music albums from renowned online mail order companies are often cheaper than MP3 downloads? There are probably fewer and fewer people who have a CD player, which is why digital audio formats are now preferred. This reduces the demand, which makes the shiny panes cheaper thanks to the dynamic pricing that is common on the Internet.
This is called market shakeout. Basically, what many use frequently becomes more expensive in the long term, what few use becomes [cheaper].
escii: Nowadays, physical CDs are cheaper than MP3 downloads. todamax.net (01/2018).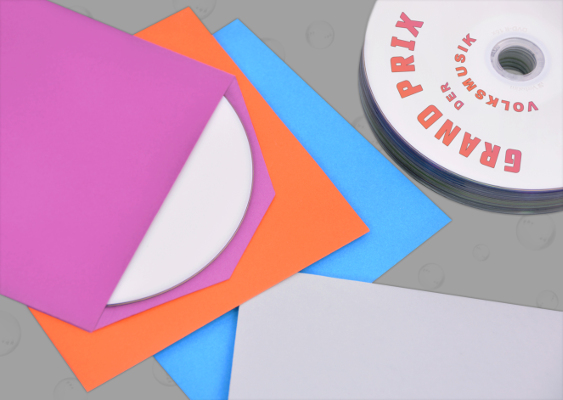 Good for those mentioned at the beginning Schlager fanswho have never had to spend so little money on music as they do today.
Related topics:
Make your own parking disc - a useful gift for men
No money? The goldfish made from polymer clay provides a remedy
¹Sobbe, Georg: Sales. musikindustrie.de (01/2018).
²Dilger, Nadja: Sound carrier sales in the USA drop to a record low. musikexpress.de (01/2018).
³Westphal, André: Burnt out: sales of blank CDs and DVDs hit rock bottom. hardwareluxx.de (01/2018).
⁴Schott, Vera: Briefly introduced: Sizzix Big Shot. youtube.com (01/2018).

Veronika Helga Vetter is a freelance artisan and graphic designer from the Free State of Bavaria. The conservative wife and mother has been running several websites since 2011. On GWS2.de, "Vroni" not only provides handicraft instructions, but also forms and children's coloring games free of charge. In addition, the Catholic advocates that the Federal Republic of Germany remains a sovereign nation-state in which cultural education and family values ​​have a high priority. Her motto: The more broken the world outside, the better it has to be at home. (Reinhard Mey)