What's a good nickname for Bryan
Bryan: Nicknames and more
Nicknames for Bryan:
Click on nickname for rating:
Your nickname suggestion
Your opinion:
Thank you for your review!
Your vote has been saved successfully!
Alternatives to Bryan:
Second first name with Bryan:
The first name Bryan is combined with other first names in half of the cases, because around Bryan's second name bearer also has middle names.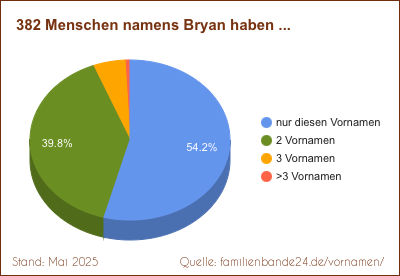 Bryan is more often (62.82%) at the beginning than at the end or in the middle (37.18%) of a double given name.
All known first name combinations with Bryan can be found in detail (sorted by frequency) in the following list:
Bryan Daniel (3 x)
Bryan Joel (3 x)
Bryan Martin (3 x)
Bryan Luca (3 x)
Jason-Bryan (2 x)
Bryan-Luca (2 x)
Bryan Michael (2 x)
Noah Bryan (2 x)
Bryan Conner (2 x)
Bryan-Alexander (2 x)
Bryan Kenneth (2 x)
Bryan Matthew (2 x)
John Bryan (2 x)
Bryan John (2 x)
Bryan Alexander (2 x)
Owen Bryan (x1)
Bryan Leandro Pinheiro (x1)
Bryan Ian (x1)
Bryan Jones (x1)
Bryan Alan (x1)
Bryan Ehrhardt (1 x)
Kenneth Bryan (x1)
Bryan Damian (x1)
Gabriel Bryan (1 x)
Bryan Lee (x1)
Bryan-Phoenix (x1)
Dexter Bryan (x1)
Lennox Bryan (x1)
Bryan Nickson (x1)
Bryan Enzo Sii (1 x)
Albert Bryan (x1)
Bryan Stanley Tjark (x1)
Lyon-Bryan (x1)
Jesse Bryan (x1)
Bryan Irvine (x1)
Jonathan Bryan (x1)
Bryan Colin (x1)
Derek Ty Bryan (x1)
Ronald Bryan (x1)
Bryan-Tyler (x1)
Bryan Chidera (x1)
Bryan-Jayden Andrew Martin (x1)
Taylor Bryan (x1)
Bryan Justin (x1)
Bryan Jason (x1)
Collin Bryan (x1)
Bryan Inverneiro (x1)
Bryan Rafael (x1)
Dean Bryan (x1)
Bryan Marcel (x1)
Bryan Gerhardt (1 x)
Bryan Finley (x1)
Bryan-Prince (x1)
Bryan Louis (x1)
Bryan Frederick (x1)
Bryan Baron Davies of Oldham (x1)
Bryan-David Christian (1 x)
Bryan Linton (x1)
Aurelio Bryan (x1)
Bryan Lima (x1)
Bryan Adrian (x1)
Bryan Paul (x1)
Tyler Bryan Ludwig (1 x)
Bryan Amar (x1)
John-Bryan (x1)
Marlon Bryan (x1)
Bryan-Bernd (x1)
Thomas Bryan (x1)
Bryan Jeffrey (x1)
Bryan Deniz (x1)
Bryan Leslie (x1)
Bryan-Jayden (x1)
Bryan Francis (x1)
Cody Bryan (x1)
Ben Bryan (x1)
Bryan William (x1)
Bryan Jayce (x1)
Prince Bryan (x1)
Bryan Josué Acosta (1 x)
Modou Bryan (x1)
Bryan Gabriel Sola (1 x)
Bryan Wiktor (x1)
Bryan Tobias (x1)
Sandro Bryan Leon Justin (x1)
Bryan Ionel (x1)
Bryan Connor (x1)
Bryan Luis (x1)
Geri Bryan (x1)
Bryan Turner Thomas (x1)
Maurice Bryan (1 x)
Bryan Linus (x1)
Bryan Ezra Tsumoru (1 x)
George Bryan (x1)
Bryan Keith (x1)
Jasper Bryan (x1)
Elias Bryan (x1)
Bryan Tyler (x1)
Damian Bryan (x1)
Pascal Bryan (x1)
Bryan Tiola (x1)
Bryan Perry (x1)
Aiden Bryan (x1)
Milo Bryan (x1)
Bryan Hemp Van (x1)
Bryan Jayden (x1)
Bryan Michel (x1)
Jamie Bryan (x1)
Bryan Wallace (x1)
Bryan-Phillip (x1)
Albus Bryan (x1)
Bryan Felice (x1)
Bryan Dominik (x1)
Bryan Milo (x1)
Bryan Maddox (x1)
Bryan Vincenzo (x1)
Bryan Taylor (x1)
Dan Bryan Ray (x1)
Bryan-Lenny Chukwuebuka (x1)
Bryan Nilson (x1)
Bryan Marlow (x1)
William Bryan Alexander (x1)
Constantin Bryan (x1)
Eric Bryan (x1)
Jeffrey Bryan (x1)
Bryan Richard (x1)
Bryan Oliveira (x1)
Bryan Jacob (x1)
Amon Bryan Michael (1 x)
Jayden Bryan (x1)
Sacha Bryan (x1)
Bryan Justin Tyler (x1)
Andrew Bryan (x1)
Christopher Bryan (x1)
Clyde Bryan (x1)
Bryan Melichar (x1)
Bryan And Denny (x1)
Kelvin Eghosa Bryan (x1)
Bryan Eugen (x1)
Bryan Lewis (x1)
Bryan Alma (x1)
Bryan Eric (x1)
Salvo Bryan (x1)
Jeremy Bryan Uwe (1 x)
Bryan Andrew (x1)
Bryan Eli (x1)
Bryan Devid (x1)
Alaric Bryan (x1)
Bryan Anthony (x1)
Bryan Sebastian (x1)
Raphael Bryan Ewald (1 x)
Even Bryan (x1)
Haythem-Bryan (x1)
Lee Bryan (x1)
J. Bryan (x1)
Bryan Julian (x1)
Bryan Robert (x1)