Why is the US after Snowden
USA want to turn off the money tap on Edward Snowden
The US government claims the income from its former secret service employee Edward Snowden from his memoir for itself. The Justice Department filed a related civil complaint in a US federal court. Snowden, who has lived in exile in Russia for six years, has already been charged with espionage in the United States for his one-time revelations about the practices of the secret services, which could result in a decade-long prison sentence.
In his current lawsuit over Snowden's book "Permanent Record: My Story", the Justice Department argues that the author violated confidentiality obligations with the publication that he once signed with the CIA and NSA. In addition, he should have submitted his book to these authorities for review in advance.
USA: No enrichment at our expense
The Justice Department said it did not want to stop the book from being distributed. Instead, all proceeds earmarked for Snowden from the sale should go to the ministry. "We will not allow individuals to enrich themselves at the expense of the United States," the lawsuit said.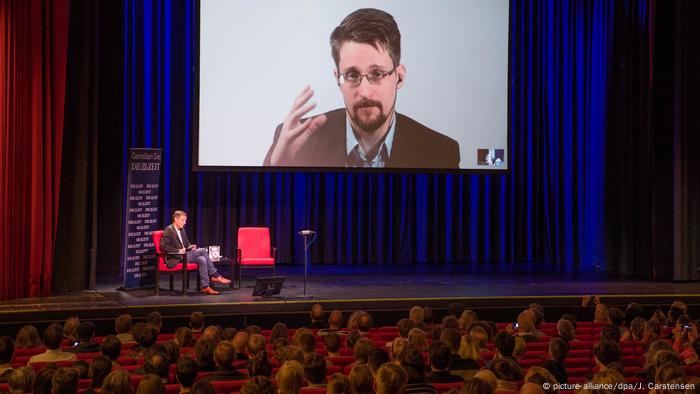 Connected from Russia: Edward Snowden on a video screen of the Berlin educational institution Urania
The autobiography of the 36-year-old was also published in Germany that Tuesday. The book is very personal and describes his motivation for exposing the massive surveillance practices of the US intelligence services.
After releasing thousands of secret documents, Snowden fled via Hong Kong in 2013 and was stranded in Russia, where his asylum has now been extended until 2020. In interviews over the past few days, he said that he would like to accept an offer of asylum from another country, such as Germany or France. He also agreed to return to the US if he was guaranteed a fair trial. According to his account, this has not yet been the case.
jj / nob (dpa, afp)