Because it is good for you & your skin
The handicraft classic is perfect for rainy afternoons to make great pendants with children. Games are especially important at carnival or birthday parties. However, some children like it a little quieter and also like to do handicrafts in between. The tags made of shrink film are a good, easy-to-implement idea.
But shrink film is not only a great design option for children. The technology can be used to create beautiful jewelry, lucky charms, key rings, mobiles, small gifts ... and much more.
---
First: what is shrink film anyway?
Saving plastic is currently a much discussed topic. If you take a closer look at packaging, you will find a recycling code in a triangle on many, e.g. PP 5, PS 6, ... We are looking for the shrink film PS 6 (polystyrene). Polystyrene is one of the oldest plastics. It is mainly used for disposable drinking cups, yogurt cups, packaging for pastries and sushi are made of polystyrene. And the best thing about it: it shrinks when you warm up! TIP with children: Go on a search for plastic with your children, you can perhaps also sensitize them to the topic of plastic. Today, however, PS 6 is not found that often anymore, PET and PP are more common. I actually found what I was looking for in sushi packaging and various yoghurt brands. Here, however, only the piece of flat ground is suitable, and that is quite small. So if you want to make larger motifs, you may have to resort to purchased shrink film.
---
What you need for that

Packaging made of PS 6 (alternative: shrink film from the craft store - matt or transparent)
waterproof pens
possibly gold pen
scissors
Baking sheet with parchment paper or aluminum foil
possibly punch
Cut a flat piece out of the packaging or use purchased foil.
Make a hole in the foil with a punch.
Now paint the motif accordingly on or around the hole on the foil.
Easy way: Print out the desired motif. Lay the foil over it. Trace the contours with a black pen. If you want, you can then color in the motif as desired.
Cut out the motif as desired. I like to leave a margin of approx. 2 mm to the motif. That gives a nice effect. With a little skill, motifs can of course also be cut out exactly. Alternative: cut out circular pendants.
Preheat the oven to approx. 130 ° C. Place the motifs on a baking sheet lined with baking paper or foil (with the painted side facing up) and place in the oven for approx. 3-5 minutes until the figures are shrunk and flat. Do not take your eyes off the oven, it happens very quickly.
Get motifs out of the oven. Let cool down. Any very sharp edges should be smoothed a little with the file - but this is not absolutely necessary.
---
PUNCH TIP: The hole of the hole punch shrinks to approx. 2 mm in the finished state and forms a perfect hanging option for most applications. Of course, you can also paint on the motif first and then punch holes in the foil. But I haven't really hit the position several times) -:
---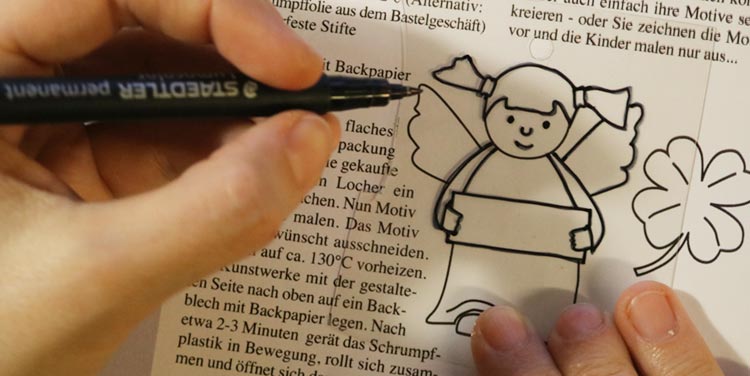 Notes on painting:
With transparent film or packaging material, you can paint on both sides. Almost all of them hold up waterproof felt-tip pens, Touch-up pens such as white pens, gold and silver pens. The film shrinks by approx. 50-60% to a thickness of approx. 1.5 mm. So the effect is nice with transparent film when the color is painted on the back. If you want to paint on writing, for example, you have to paint it in mirror image - anyway, of course.
Gold and silver color in my tests looks nicer on the front than on the back.
Both sides can also be used (e.g. the black lines on the front, the color on the back). This gives nice effects, but with the risk that the lower color can stick a little to the baking paper during baking. Not always and not bad, but it can happen (and it has happened to me, too).
---
Shrink:
Preheat the oven to approx. 130 ° C. Place the works of art with the designed side up on a baking sheet with baking paper or silver foil. The painted side (e.g. if both sides are painted) can also be at the bottom. In rare cases, however, the color sticks to the paper a little when it shrinks.
After about 2-3 minutes, the shrink plastic starts moving, rolls up and then opens again. When it is completely flat again, the shrinking process is complete (after 5 minutes at the latest). If the pendants are not completely smooth, you can also briefly place a saucepan on the motifs that are still hot. Most of the time it works without it. Let the motifs cool down. Any sharp edges can be sanded off with a file or very fine sandpaper, but this is not absolutely necessary.
---
You can find many great templates on the Internet. Simply print it out, place it under the foil and paint over it. Of course, children can also simply create their own motifs - or you can draw the motifs and the children just paint.
Here are some ideas:
Frozen motifs
Here you will find Elsa, the ice queen, Anna, Olaf, the snowman and Kristoff.
Frozen motifs for printing as PDF.
Motifs of small angels and other lucky charms
Everyone is happy about a little guardian angel or a lucky charm, whether as a key ring, pendant on a charm bracelet or on a chain.
Lucky charms to print out as PDF.
handmade
All those who do handicrafts, handicrafts or make jam themselves will love this template. If you sew the buttons to a workpiece, it is particularly nice if the writing is painted on the back of the transparent film. That's why the writing is mirrored here.
Handmade buttons for printing as PDF.
Handmade buttons with writing on the back (painted in mirror image) for printing as PDF.
Birds and flowers
Tits, floral patterns and snowdrops are perfect as cute key rings, as bracelets, chains but also as a mobile in the window
Titmouse, snowdrops and floral patterns for printing as PDF.
Pendant for lovers
The motifs are perfect as cute key rings, bracelets, chains but also simply as a cute pendant on a gift
Trailers for lovers to print out as PDF.
---
Handmade organic & natural cosmetics from Vorarlberg
* From EUR 48 (Austria), EUR 72 (Germany) or EUR 185 (Switzerland) we deliver free of charge.
To the Inizio natural cosmetics SHOP
---
Did you like the article, do you have any questions or suggestions?
We are pleased about your message!
More ideas & tips:Inizio nature care
Last update: 01/2020 | © 2020 Inizio e.U.