Do you know the Chinese catchphrase orz
Yang Lian: "There are cracks and holes in China's censorship"
Deutsche Welle: How would you describe the current state of art freedom in China?
Yang Lian: I am reflecting on recent experiences regarding this question. I taught at Shantou University for a month. During this time I realized that the control of art and the media has become much stronger than it used to be, especially on television. Ten or even five years earlier there were television programs with a deep insight into historical contexts, especially the history of China after 1949. These programs have now completely disappeared. Cheap entertainment floods the television channels. I was very disappointed.
Why is that happend?
One possible reason could be that things are no longer going economically. The government may be concerned that this could create unrest among the population, especially among intellectuals. Therefore she tries to control topics with cultural and ideological questions more strongly.
The Chinese government controls all publications, both in print and online. How dangerous is this repressive behavior for Chinese authors?
This has long been a battle that is being waged on two fronts. The government just continues the communist tradition of controlling all expressions and thoughts. But the voice of the people can still be heard on the Internet and through other means of expression. It's a movement, but it depends on what individual artists are willing to do. There is a lot of self-censorship among Chinese artists. Nevertheless, there are great artists who tackle social and political issues with high artistic standards.
Shang Yang's installation "Sheng Shui Tu" refers to the Three Gorges Dam, which uprooted over 1.3 million people
Can you give an example of this?
I recently met the artist Shang Yang. He has created a large, downright epic installation related to the Three Gorges Dam. All parts of this mighty installation are thematically related to the compulsion to migrate, to emigrate, which the construction of the dam in the Three Gorges area triggered. That's still a big problem. The dam not only destroyed nature, it also destroyed social relationships. When I saw this work of art in Shang Yang's studio, I was very moved.
Would you say there is more freedom for visual artists than for writers?
Questions about artistic freedom of expression or freedom in other cultural areas are essential for a Chinese society that is going through such a rapid transformation. It is the responsibility of every artist to reflect on them and to come to their own decisions.
For example, I recently gave an interview to the Pengpai website on the occasion of the nine-volume publication of my works in China. It is now very important and significant in China. In the interview I was asked how I think about 1989. (Note: the year of the Tiananmen massacre on June 4, 1989 and the smashing of the democracy movement)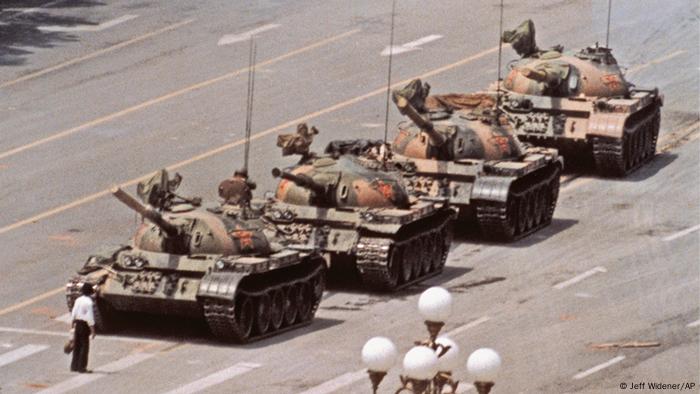 The most famous picture of the Tiananmen Square protests in 1989 was taken the day after the massacre when a man alone stopped a column of tanks
I responded with my interpretation of events: Exploring Chinese history and culture in the 1980s unleashed an intellectual energy that culminated in the 1989 student movement. In the end, my answer and all related questions were truncated from the interview posted on the website. I was angry and sad because it would have been a breakthrough to talk so openly about these events.
Then I immediately sent a link to the unabridged interview to my friends, which they had widely distributed on social media. I am curious whether there will be a reaction from the censors as to whether this link will be deleted. So far he's still there, let's wait and see. As I said, freedom of speech depends on the actions of individuals.
In 2004, China explicitly recognized freedom of expression as a human right in an amendment to the constitution. Why is it still so restricted?
A constitution can be easily rewritten. It has already been rewritten seven times. Rewriting the Constitution is one thing, but changing reality is another.
According to Amnesty International, human rights activists still risk persecution and imprisonment in China. Torture and other forms of harassment remain widespread. Do you know any writer or artist who has recently been jailed for no apparent reason?
It can be seen from the files that a number of non-fictional authors writing on political issues are in trouble. But I haven't heard any literary writers have been jailed recently.
The artist Ai Weiwei, who, like you, currently lives in Berlin, said in various interviews that although artistic freedom is not complete in China, it is better off than it used to be. Do you agree with that?
Yes I agree with you. On a foray into the art galleries in Beijing's "798" district, I saw many artists doing this type of political art.
There were usually three major taboos in China: Taiwan, Tibet, Falun Gong. Are they still there?
That hasn't really changed. The only improvement is that artists today can indirectly criticize their art in this regard and the government is now simply ignoring that. But if you talk about it directly - as I did in my interview about the 1980s and 1989 - you get into trouble immediately. There is a sensitive limit. Since all artists know this limit, they dare to approach it until then, but never cross it.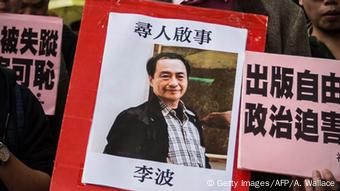 Lee Bo is one of five missing Hong Kong booksellers associated with Mighty Current
In Hong Kong, five people related to the Mighty Current publishing house, which specializes in high-profile political books, have disappeared since October last year: #link. It is speculated that they were abducted by the Chinese secret service. Does that mean the end of freedom of expression in Hong Kong?
I think so. Somehow the situation in Hong Kong is worse than in China. You can still buy non-fictional books on Chinese politics and China's political leaders there. But those who publish or sell such books are facing much greater difficulties today than they were before 1997 (Note: when Hong Kong's sovereignty was transferred from Great Britain to China). Today the political leaders in Hong Kong are mere vicarious agents of the central government. They may be more self-censored than the central government expects.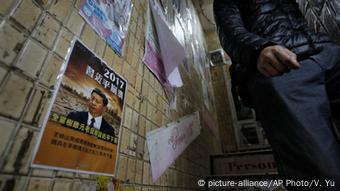 A poster with a picture of the President of China hangs at the entrance to Lee Bo's bookstore. The caption reads: "2017: Xi Jinping breaks in"
Her books were on the index for years and are now published by renowned publishers in China. Why did the censors change their mind?
There are controls by the central government, but China is no longer such a single block of steel. Reality is full of cracks, holes and openings. A book published in Beijing may be banned, but if the same book is published by another Shanghai publishing house, no objection will be raised.
You lived in exile for many years. You are now free to go back to China, live there for months, and even teach there. Could you imagine returning to China permanently one day?
No, not just because of political control. The air pollution there also makes that impossible for me. Because it's incredibly bad. A joke attributed to Ma Yun, the boss of Alibaba (Note: Jack Ma, the richest man in mainland China), says that air pollution makes everyone equal because everyone has to breathe.
But I don't want to simplify anything. China has changed a lot. I'm trying to do my part to make more positive change. I think it's important not only to comment on this from the outside, but also to feel the reality on site.