What should I wear while golfing?
Dress code golf
Golf originally came from Scotland. It spread across Great Britain as early as the 16th century and became popular across Europe from the 19th century. As a classic sport, the game of golf is tainted with numerous traditions. This includes, among other things, the dress code, which for the professional golfer at the tournament is slightly different from the private person who plays golf.
Please note: every golf club has its own dress code. Those who do not adhere to this rule are not allowed to enter the golf course. The interesting thing about the golf outfit is that it masters the balancing act between comfortable sportswear and a clothing style that stands out from the majority. Because of the expensive equipment and the club fee, golf was reserved for the higher-income earners until the 20th century.
Today there are bargain offers for membership fees in this sport too, and golf clothing can be purchased in most sports shops or over the Internet. And even if the clothing regulations have relaxed in many places, there are a few things to consider.
Dress codes golf course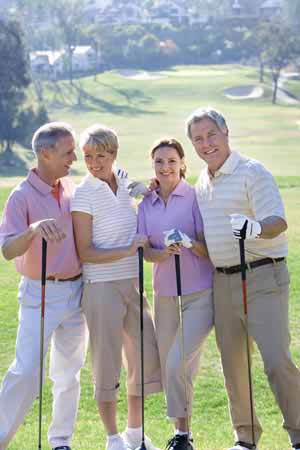 In long-established golf clubs, there are often stricter dress codes than in clubs that were only founded a few years ago. While the traditional club forbids the wearing of jeans of any kind, denim pants are allowed in the modern golf club.
However, only jeans that are neither washed out nor torn should be selected here. The trousers must not be too tight, because sex appeal has no place on the golf course, and deep-seated buggy jeans are also not permitted.
The following applies to both women and men: tank tops or tank tops are taboo. The sweatpants or jogging suit, which are so popular in many sports, are by no means part of the golf outfit. T-shirts with a motif print are not welcome and skull prints are strictly prohibited.
While the professional golfer is only allowed to appear in long trousers at the tournament, private individuals, at least in Europe, are allowed to expand their golf practice in shorts. But the shorts should also reach the knee.
Because the game of golf requires maximum concentration, the players must not be spoken to while they are taking a swing. In addition, the cell phone should either be switched to mute, or ideally left completely at home or in the car. After all, nothing is more annoying than the sudden tinkling of a cell phone.
Anyone who wants to play as a guest player in a long-established club must absolutely respect the dress etiquette. It makes sense to inquire about the respective dress code in advance, because in some old golf clubs with mostly British roots, well-known golf labels have to be worn. This means that anyone who has purchased their no-name golf outfit will not be admitted. Incidentally, footwear is also subject to the golf dress code. Comfortable flip flops are just as taboo on the golf course as sports shoes with metal studs that can damage the green.
Dress code golf for women
While the game of golf used to be a pure men's sport, women are now allowed to participate in this sport as well. The lady plays either in pants or in a skirt. The pants should be comfortable cloth pants that either reach the knee or the ankle. Hot pants are not permitted, as are three-quarter trousers. Leggings and jogging pants are also not allowed. A comfortable sports skirt that is neither too tight nor too flared is recommended as a skirt.
The outerwear consists of a long or short-sleeved shirt. Tank tops are just as undesirable as backless or crop tops. As with men, polo shirts with collars also prove to be particularly appropriate for women and are accepted on every golf course. The top is always tucked into the waistband of the trousers or skirt and never hangs over it.
It goes without saying that the lady does not run into the square with stiletto heels. Also, do not wear sandals, sandals or boots. If you don't have golf shoes with plastic studs, opt for comfortable sports shoes.
Dress code golf for women - examples:
Plain, long-sleeved cotton shirt and long, light trousers. Matching white sports socks and golf shoes.
White, long-sleeved cotton shirt with a collar, over it a tank top with a diamond pattern and a matching white sports skirt, white socks and white sports shoes.
Light green, short-sleeved top with collar, plus a green and white checked skirt, white knee socks and white sports shoes. As headgear a white peaked cap with a front shield.
White, short-sleeved polo shirt underneath a gray, long-sleeved fine knit sweater. Matching dark blue, long trousers, white socks and dark blue sports shoes.
Orange polo shirt from Brittigan, plus white, long trousers from Girls Golf, white socks and golf shoes with soft pikes.
No Go's: Mini dress, mini skirt, hot pants, jeans, leggings, sweatpants, tank top, sleeveless top without collar, T-shirt with a motif print, low-cut top, transparent top, shirt with advertising, cropped shirt, leather pants, flip flops, sandals, boots, ankle boots, Pumps, high heels, faded jeans, frayed jeans, leather pants, prints or accessories with a skull motif.
Dress code golf for men
Anyone who does not adhere to the dress code of the golf club will either be viewed askance or not be allowed to indulge in their favorite sport on this course. This is why the passionate golfer should always have adequate golf clothing with him on vacation and expect that the golf dress code is a little stricter in some foreign clubs than in Germany.
Either long cloth trousers, checked trousers, knickers or possibly knee-length shorts are mandatory. Matching tops include polo shirts with collars, long or short-sleeved, tank tops with a diamond pattern and long-sleeved, single-colored fine-knitted sweaters. The top is always in the pants and never hangs over the waistband. The golf outfit is complemented by white knee socks and golf shoes with soft pikes. A fabric cap may be put on as sun protection, but the shield traditionally has to face forward.
Even if the football shirt is a sports dress, it must not be worn on the golf course. Knee socks that are rolled down to the length of a sock or long pants that are tucked into the socks are also frowned upon.
Dress code golf for men - examples:
White-blue, checked, long trousers and dark blue, short-sleeved polo shirt with collar. White socks, blue golf shoes and a blue peaked cap match.
Dark green, long-sleeved polo shirt with collar and white fabric shorts with knee length. Matching white knee socks, a dark green cap and white sports shoes.
White, long trousers, white short-sleeved polo shirt and a tank top with a diamond pattern. Footwear: golf shoes.
Red, knee-length shorts, a white polo shirt with short sleeves and a vest with a black and white Argyle pattern. A matching red cap with a shield, men's knee socks with a black and white diamond pattern and white and red patterned golf shoes.
Light gray, light, knee breeches from Golf Knickers and a plain, white top with collar from Boss Green to the checkered umbrella from Barbour.
Gaffe: Suit, jogging suit, shorts that end at the thigh, knee-length shorts and socks, cap upside down, jeans, military trousers, cargo trousers, lederhosen, football shirt, Hawaiian shirt, tank top, tank top, street shoes, sneakers, sandals, boots, ankle boots, Sun hat.
Tips for the dress code golf
If you don't have adequate golf clothing with you, you can usually get it at the golf course. In the so-called pro shop, both golf equipment and the right outfit are sold.
A round of golf over 18 holes usually takes several hours. If the weather changes, you should also be prepared for this eventuality. A vest that you can eventually take off or a cardigan that you can pull on will serve you well.
Anyone who sweats a lot and easily takes a spare shirt with them when they play golf. You should have mosquito repellent, sunglasses and an umbrella with you, as well as a light rain jacket or a small umbrella. Do not forget the water bottle and an energizing chocolate bar can also be packed.
Inform guests who would like to accompany you to the golf club that they too are bound by the dress code of the complex.