What screams I am Eastern European
"Eastern Europeans don't expect something good to happen"
Deutsche Welle: The protagonist of your novel "Zero Comma Irgendwas", Cristina, is a lonely young philologist who works as a secretary for a Bucharest construction company. She suffers a lot from the fact that her mother works in Spain. Labor migration and brain drain have long been problems in your home country, which currently holds the EU Council Presidency. Since Romania joined the European Union in 2007, even more citizens have left their country than before - mainly to work in other EU countries. Your latest children's book also addresses the issue of labor migration: It's about a sad little snail whose mother works on the other side of the street. Why do you deal so intensively with this subject in literary terms?
Lavinia Braniște: I "borrowed" a lot from my own life to the protagonist of my novel. This experience is mine too, because my mother has been working abroad for 15 years. The children's book about the little snail was commissioned for a publisher from the Republic of Moldova: The publisher knew my sensitivity to the topic of migration because I had already taken it up in earlier children's books - in a series about a little pig called Rostogol.
What was your experience when your mother left Romania to work abroad?
When my mother went to Spain, I was already in my second year of university - very different from many children in Romania who stay with their grandparents very early and are completely confused when their parents go abroad. But it was also very difficult for me as an adult - just like for my grandparents. My mother lived illegally in Spain for a while without the necessary papers and was unable to travel to Romania at the time - not even when my grandfather became very ill. Little did she know when she went to Spain that she would never see her father again. It was a very painful experience for the whole family. Only after several years did my mother have the necessary papers and was able to visit us during the holidays.
Immediately after graduating, I also thought about emigrating to Spain. I spent a year there - accompanied by the feeling that my life was neither there nor here. I didn't seem to be anywhere and I didn't understand what was happening at home or what was going on in the other country. I believe that with migrants who have been living far away from home for a long time, this feeling disappears over time, and they will probably find their peace at some point. But maybe traces of this feeling will remain for a lifetime: that your place is neither here nor over there.
What should change in Romania so that not so many people leave the country?
First and foremost, you need better wages, it all starts with the economy. If you have enough money not to worry about how you will somehow get through the next day, everything else follows: access to culture, education, leisure activities, etc.
At the political level we need people who are very well qualified for the areas for which they are responsible. They have to be intelligent, competent and educated, they need goodwill, visions and long-term strategies.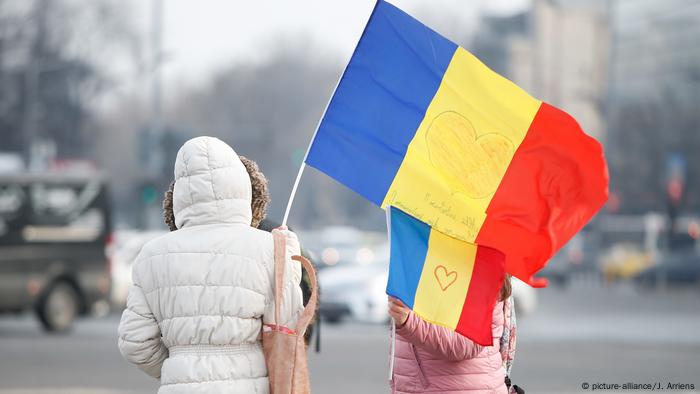 Protesters in Bucharest: "The citizens feel that they have a voice"
As part of the "Literatour d'Europe" series, initiated by the Representation of the EU Commission in the former federal capital and the Literaturhaus Bonn, you read from your novel in Bonn. When asked whether you define yourself as a European, you answered at the reading in Germany that you would see yourself as an "Eastern European". Why are "Eastern Europeans" different from "Western Europeans" from your point of view?
Typical for us Eastern Europeans is a certain modesty and humility, one does not expect that something good could happen. Something in us has been destroyed in recent history, especially during the communist dictatorship: the hope for something good. And then your survival technique is to sort of deal with the bad. That's pretty much all you set out to do: muddle your way through somehow ...
When meeting your German readers, saBut do you also think that S.ie still hopes for the future of Romania hevenings.
Yes, because there are new parties and people with new energy joining them - mostly young people, but older people too. If Romania's political landscape is renewed, there is hope for positive change. But that takes time.
Since the beginning of 2017 there have been repeated demonstrations in Romania against corruption, against the current government and for European values; EU flags can also be seen during the protests. Civil society has also become more active in recent years than it used to be. See one in it too Reason for hope?
Yes, because a culture of protest is emerging. People realize that they have the right to at least demand explanations for what is happening, rather than just accepting everything. It is good that the citizens protest and feel that they have a voice. The culture of volunteering is also something new for Romania. I think we are slowly breaking away from that exaggerated individualism that the communist dictatorship had brought about: everyone tried to save himself individually, the others did not interest him. Today we have an awareness that we live in a community and that we must be interested in the common good.
The Romanian writer and literary translator Lavinia Braniște lives and works in Bucharest. Her book with the Romanian original title "Interior zero" was voted the best novel of the year in 2016 in Romania. The German translation was published by Mikrotext in 2018 under the title "Null Komma Irgendwas".