Is Disney still relevant in today's world
How to deal with films that are no longer up-to-date?
"Peter Pan", "Dumbo", "The Jungle Book" - many adults saw and loved these Disney branded films as children. And even today, the film classics of the American group are still very popular with children and adults.
It is precisely this popularity that makes the products of the globally operating company a target for criticism. In the US and Europe, the demand is growing that these films from the past must be scrutinized - and that stories should be told differently in the future.
"Better to classify than not show more"
The group reacted to the former on its Disney + platform in 2019: First, the films "Peter Pan", "Dumbo", "Lady and the Tramp", "Aristocats" and "The Jungle Book" were given a note in the opening credits: "This Program contains negative representations and / or incorrect treatment of people or cultures. These stereotypes were wrong then and still are today. "
In "Dumbo", for example, it is crows that speak in the original with an Afro-American accent and serve the stereotype of the dancing, singing black. In "Peter Pan" indigenous peoples are consistently called "red skins", and in "Aristocats" a cat plays the piano with chopsticks and speaks with an Asian accent.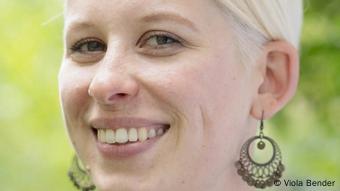 The cultural and literary scholar Eva Fürst gives workshops on the topic of "Self-confident handling of racism"
In this respect, the cultural and literary scholar Eva Fürst considers a hint, as it appears now in the opening credits, to be useful: "Such a social classification is welcome and much better than simply not showing the films anymore. Because this creates an opportunity, a chance to talk to children about racism and negative stereotypes. "
What will the films look like in the future?
However, Disney also removed the films from its in-house video-on-demand platform at the end of January, specifically for children's profiles, i.e. for those viewers who are under twelve.
Fürst, who works as a research assistant at the Institute for Education and Social Innovation in Bonn, sees this critically: "What I find difficult is not to expect children to understand that some things are wrong." Not showing films is not the solution. "I think it's good if you don't keep locking out works, but consciously deal with the problematic; talking about the fact that it was a sign of its time and that it was wrong even then."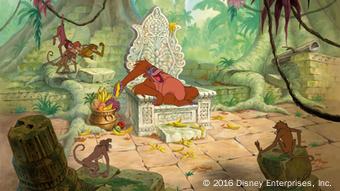 The children's film "The Jungle Book" has long been criticized for spreading racist stereotypes
So how can you do it differently, how can you do it better? Many cultural workers in the USA and Europe have been asking themselves this question for a number of years, also outside the Disney group, for example in the theater. But novelists and independent filmmakers are also discussing it.
"Pocahontas" as a positive example
Fürst, who leads workshops at European universities on the subject of "racism awareness", sees the information in the opening credits of the Disney films as a good first step - especially because it tells parents, even more than children, that there is content here that are problematic or that need to be classified for the children.
But further steps would have to be taken, said Fürst: Disney could create many more such offers to address difficult questions, for example in films about those cinema classics that they could make available on their platform. These could not only deal with costumes and scripts, but above all initiate a debate about the moral questions a series or film raises.
As a positive example, Fürst mentions an older Disney film, namely "Pocahontas", which was released in 1995. "It's a corruption of the historical character, but it works as a Disney film because it clearly portrays colonization as something negative for children."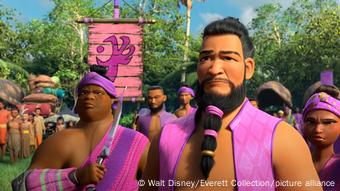 The men in Disney's latest film Raya and the Last Dragon are not afraid of the color pink
Stories shape our view of the world
The latest Disney film "Raya and the Last Dragon" should do a lot differently, according to the company. The film was released on March 5th in Germany on Disney +; behind him are the makers of "Vaiana". Eva Fürst has not yet seen "Raya and the Last Dragon", but she can already see progress with "Vaiana": "The actors are appropriately selected, in the story a heroine does not look for and find a man, but her identity. If so It goes on like this, that's a good way to go. Disney has an awful lot of media franchises. That means they're extremely powerful because the stories we consume shape how we see the world. It's important to be accountable is. "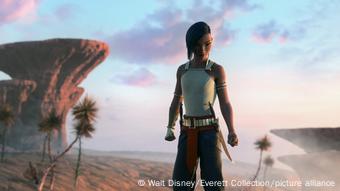 In "Raya and the Last Dragon" young women decide the fate of the world among themselves
"Pocahontas" and "Vaiana" instead of "The Jungle Book" and "Peter Pan" - the new classics among children's films will be different than they were a decade or two ago. According to Eva Fürst, this also means that society has matured: "If you rate a children's film differently as an adult, that means above all one thing: You have grown up."