What size umbrella should I get
Partner umbrellas - the XXL umbrella for two
A simple umbrella is too small for two adults. In order not to have a wet shoulder and still walk through the rain together, there are large partner umbrellas. Here you will find space together with your sweetheart and you can defy the weather hand in hand. The XXL umbrellas offer an enormous span and are significantly larger. To do this, however, they also have to be robust and more stable. In the following sections we therefore want to take a closer look at the properties of the umbrellas, introduce you to special designs and discuss some special products.
The structure - robust and not too heavy
The most important feature of a partner umbrella is of course the large span. The models have a diameter of 120 to 150 cm, so that two people can comfortably stand under. They are often designed as stick umbrellas to ensure more stability. Especially with this diameter and this enormous span, the umbrella has to be made robust enough. In order to still allow a light weight, the rod and struts are made of fiberglass or carbon fiber, for example. So you don't weigh the model down and still withstand stormy weather.
Only a few models are also available in pocket format. They can be easily folded up and automatically open by themselves. The advantage here is of course the handy size so that you always have the umbrella with you. That doesn't work so well with a stick umbrella.
Other special features - ventilation system and material
In addition to the robust construction and the large span, there are some special features that make the giant umbrella even more comfortable and practical. For example, it can also be used on a golf course.
The handle: The partner umbrella should have a large, non-slip handle. With stick umbrellas it is usually a curved handle, with golf umbrellas a straight model. Take a closer look at the workmanship and material here.
Ventilation system: Golf umbrellas in particular are equipped with a special ventilation system. This is useful for all large umbrellas so that they do not fall victim to the wind. Normally the umbrella folds over and breaks. With the ventilation system, the wind passes through the umbrella without any problems and you have no trouble holding it.
Opening system: Many models are equipped with an automatic opening system so that you do not have to use force with the huge span. A push of a button is all it takes and you're dry.
Popular designs - colored segments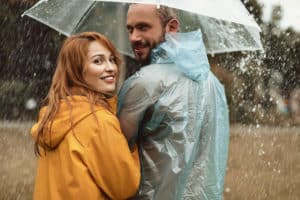 The areas of application of the XXL umbrellas are wide-ranging and extend into sports. Of course, the large umbrella is practical for any couple who want to run or take a walk together. But the larger items are also suitable for mothers with children. In addition, depending on the design, partner umbrellas are used for weddings or other festive events. Here you should opt for a subtle look. Customers prefer monochrome models or even transparent looks for a wedding.
Those who like it more colorful can get the segments in different colors. So you bring a happy appearance in the rainy weather. So how about if your umbrella took on all the colors of the rainbow? In these models, the segments are divided into different colors so that up to 16 colors and more can be spanned. For business men, an umbrella with a pinstripe is more interesting. Or do you prefer checkered patterns or dots? Extraordinary models can be provided with a specific motif, for example an animal, or take on the look of a football. Decide for yourself what suits you best.
The advantages and disadvantages of partner umbrellas
advantages
disadvantage

Large span
for several people
modern designs
easy to use
automatic opening

Quite long as a stick umbrella
not all models are windproof
Durability and safety - beware of storms
Thanks to their high-quality workmanship, partner umbrellas testify to their durability. Some of them are not used all the time in everyday life, which means they will stay with you even longer. Nevertheless, pay attention to a solid polyester fabric for the materials and a fiberglass rod.
In addition, some caution is advised in stormy weather. Not all umbrellas have adequate ventilation. That means: if the wind reaches under the umbrella, the attack surface is of course much larger. If you don't hold the handle tightly in your hand, the umbrella could even fly away.
Some models are designed in such a way that they simply fold over by the wind and do not break. Other umbrellas show a two-layer fabric through which the wind simply gets out again. It is much easier for you to hold the umbrella in your hand and there is no danger of it falling over.
Purchase criteria for partner umbrellas - pay attention to size
A new partner umbrella should of course be big enough to accommodate two people. Not all umbrellas can say that. What is referred to as XXL doesn't always have to be extra large. Therefore, always pay attention to the exact span and other criteria:
criteria
Hints
Size and material

Wingspan approx. 150 cm
Length: over 100 cm
as a stick umbrella or pocket umbrella
Fiberglass frame
Fabric made of sturdy polyester

particularities

Suitable for weddings
non-slip handle
modern designs
Air outlet in strong wind
stable workmanship
The most important manufacturers - Happy rain, Euroschirm and Knirps
Almost every manufacturer has partner umbrellas on offer. They are the counterpart to the normal and small umbrella models. However, you should pay close attention to the processing and size. The most popular manufacturers in this area include:
Manufacturer
particularities

Colorful design
in rainbow colors
Fiberglass rails
large span
with curved handle
Stick umbrellas

Stable fiberglass rails
lightweight
modern and sporty
One-handed operation
additional shock absorbers
Suitable for storms

Known for pocket umbrellas
robust construction
still available as an XXL model
easy to stow away
mostly monochrome
straight handle
The four most popular XXL umbrellas
Transparent partner umbrella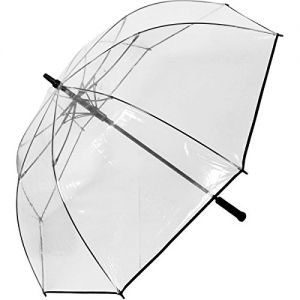 particularities
Length: 96 cm
Weight: approx. 700 g
Material: polyethylene
Fiberglass frame
straight handle
This partner umbrella impresses with its transparent design. Only the frame and the lower edge are set off in black. Thus, the model is suitable, for example, for a wedding or another celebration where the couple would like to run through the rain together. When opened, the umbrella has a diameter of 124 cm. When closed, it is 96 cm long and can be used as a stick umbrella. Due to its impressive size, the canopy is more curved than is the case with a normal umbrella. The handle is slightly rubberized so that you can still hold it securely in your hand even in strong winds. The customers are very satisfied with the size and the opening also works without any problems. The material is 100 percent waterproof and therefore also suitable for photo shoots in the rain.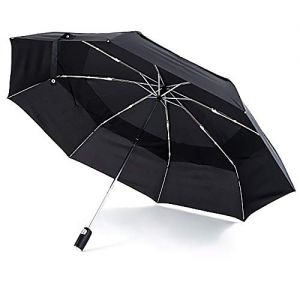 particularities
dirt-repellent
120 cm diameter
quick to open
Ventilation system
Incl fabric cover
You get a large partner umbrella with this pocket-sized model. Despite the compact design, the canopy with a diameter of 120 cm is wide enough for two people. When the rain stops, you can easily stow the umbrella with the protective cover in your pocket. But the model is not only rainproof and dirt-repellent. The fabric ensures quick drying and is applied to the frame in two layers. This way, the wind does not get an attack surface and the umbrella does not simply fold over in a strong gust of wind. The mechanism also allows easy opening and closing with just one hand. Customers are still missing a wrist strap on the rather small handle.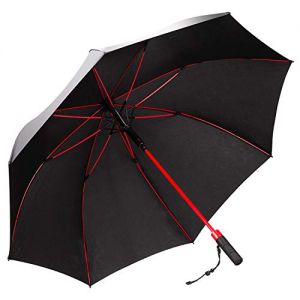 particularities
120 cm diameter
Fiberglass frame
dries quickly
with hand strap
Handle straight
This golf umbrella can not only be used for sports on the green. With its diameter of 120 cm, it is ideal as a partner umbrella, so that two adults can find space underneath. The fabric stretches over eight fiberglass struts, which are contrasting in color. They are made so sturdy that they can withstand heavy rain and wind. At the same time, the umbrella is lightweight and very durable. The surface of the fabric is specially coated. As a result, the material is not only tight, but also dries very quickly. The raindrops roll off immediately. The handle is rubberized and won't slip off your hand. There is also a practical hand strap. Customers also like the elegant design.

Umbrella in rainbow colors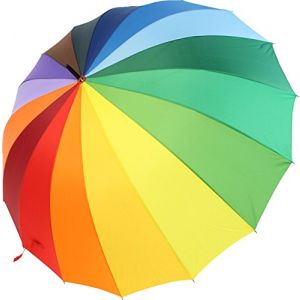 particularities
colorful design
approx. 515 grams
Diameter: 129 cm
Length: 100 cm
16 segments
Those who prefer it colorful in rainy weather can opt for this partner umbrella. It is not only big, but also impresses with its rainbow design. The canopy is divided into 16 segments, each of which has a different color. The model is covered with a special polyester that is not only robust but also waterproof. The fabric is rich in color, so it won't fade even in the sun. Designed as a stick umbrella, it has a robust tip and a curved handle. The frame is stable and still light in weight for its size. There is also an automatic mechanism to help you stretch it. Customers only complain that the wind gets a very large target.

Customer tips - quick drying
When choosing a new partner umbrella, you shouldn't just pay attention to the size. After all, the article should also be robust enough and be able to withstand a little stronger wind.
In addition, many customers pay attention to the nature of the fabric. At best, it is not only water-repellent, but also dirt-repellent and easy to clean. A damp cloth is enough to wipe it off. In addition, the fabric should dry very quickly so that you can roll up the umbrella again.
For the sporting area as a golf umbrella, for example, it should have a straight handle. A curved handle is useful in everyday life and as an umbrella for two people. So you have the umbrella more securely in your hand.
Conclusion
The umbrella for two is very large and designed as a partner umbrella. Whether for a wedding or for the next golf game - there are different possible uses. You just have to make sure that the umbrella is made robust and can withstand any weather.
More and more customers rely on a special two-layer ventilation system for these large umbrellas. So the wind can't just run under the umbrella and tear it out of your hand.
You should also pay attention to an automatic opening system. After all, clamping on this scale requires some force. It is best to open the model with one hand. When it comes to design, you get everything from a monochrome look to a rainbow.