What prepares people for life
Live again before death
How do we experience our dying? What happens in the transition from life to death? These questions are asked by the exhibition "LIFE AGAIN BEFORE DEATH", which is currently on view in the House of the Church in Wolfsburg. The photographer Walter Schels and the journalist Beate Lakotta investigated existential questions when they became a couple ten years ago. The trigger was the 30-year age difference between the lovers.
Schels and Lakotta went to hospice. For a year they accompanied people on their last journey in life. They talked to the doomed about their worries and fears. And they captured the moments in the picture. This resulted in the photo exhibition "LIVE AGAIN BEFORE DEATH", which has been causing a stir around the world ever since. The works have been shown in numerous museums since 2004 and the authors have been showered with prizes. Newspapers and TV stations around the world reported on the sensitive, moving portraits.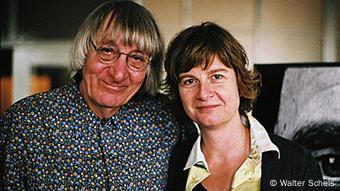 Beate Lakotta and Walter Schels
Large-format black and white pairs of images can be seen in the exhibition. One photo shows the person alive, the other shows him dead. In one shot, we encounter serious, knowing looks from the dying. On the second, the eyes are closed, the faces seem relieved of all tension, the people are animated by death. The double portraits develop great attraction. They are astonishing and provoke questions.
The images are not suitable for voyeurism. Nevertheless, the journalist Beate Lakotta and the photographer Walter Schels have added texts to their photographs. They tell short stories about those portrayed. Sometimes it's - especially with the younger ones - about illness. Most of the time, the thoughts of the dying revolve around saying goodbye, almost always around death.
"With this project we wanted to overcome our own fear of dealing with death and dying," says Beate Lakotta. She and her husband understand "STILL LIFE" - despite the huge success - as an artistic project, not as a religious issue.
In the following we bring the texts to selected double portraits: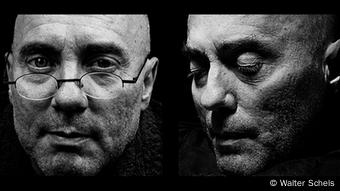 Heiner Schmitz
52 years
Born on November 26, 1951
First portrait on November 19, 03
Died December 14, 2003
Hamburg Beacon Hospice
Heiner Schmitz saw the spot on the magnetic resonance image of his brain. He realized immediately that he didn't have much time left. Schmitz is an eloquent quick thinker, not without depth. He works in the advertising industry. Everyone is in a good mood. Usually. Heiner's friends don't want him to be sad. You want to distract him. They watch football with him in the hospice, as they always do. Beer, cigarettes, room party. The girls from the agencies bring flowers. Many come in pairs because they don't want to be alone with him. What do you talk to someone about to die? Some wish them a speedy farewell. Get back on your feet soon, dude!
"Nobody asks me how I am," says Heiner Schmitz. "Because everyone's scared. That convulsive talking about everything, that hurts. Hey, don't you get it? I'm going to die! It's my only topic every minute that I'm alone."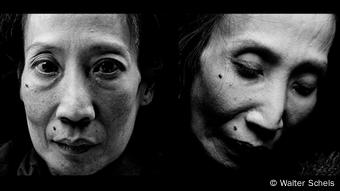 Maria Hai-Anh Tuyet Cao
52 years
Born on August 26, 1951
First portrait on December 5, 2003
Died on February 15, 2004
Hamburg Beacon Hospice
Presumably Maria Hai-Anh Tuyet Cao would have died differently if she had not familiarized herself with the teachings of Supreme Master Ching Hai. The well-known spiritual master says, "What is beyond this world is better than our world. It is better than anything we can imagine or cannot imagine."
Ms. Cao wears the picture of Master from Vietnam around her neck. Under her guidance, she has already traveled to the other world on the path of meditation. It cannot be long before she is called there: Her alveoli disintegrate. But she looks cheerful and serene. "Death is nothing," says Ms. Cao. "I laugh at death. It is not eternal. After that, when we go to God, we are beautiful. Only if we are still attached to a person in the last second do we have to go back to earth." Hai-Anh Cao prepares for this moment every day. She wants to break away from everything at the moment of her death.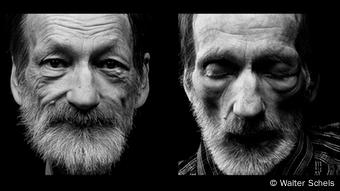 Wolfgang Kotzahn
57 years
Born on January 19, 1947
First portrait on January 15, 2004
Died on February 4, 2004
Hamburg Beacon Hospice
Colorful tulips are on the bedside table. The sister has set up a tray with champagne glasses and cake. Wolfgang Kotzahn's birthday. "Today I will be 57. I had neither the idea of ​​getting old nor of dying as young as it comes now. But death knows no age."
The diagnosis had overtaken the reclusive tax specialist six months earlier: bronchial carcinoma, inoperable. "The shock was great. I never dreamed of death, only of life," says Mr. Kotzahn. "I am amazed that I have come to terms with it relatively easily. Now I lie here and wait for death. But every day I have, I experience it too. I have never paid attention to clouds in my life. Now. Now I see everything very differently: every cloud on the window, every flower in the vase. Suddenly everything is important. "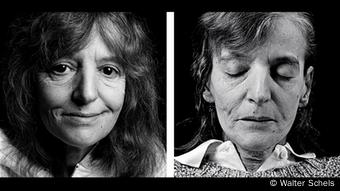 Ursula Appeldorn
57 years
Born on September 17, 1946
First portrait on November 19, 2003
Died December 22, 2003
Hamburg Beacon Hospice
Ursula Appeldorn used to suffer from hallucinations. In a panic, she ran into a busy street. Since living in a house for the mentally ill, she has been better. Then she got cancer. When it was said in the hospital that it would be best for her to go to the hospice, she screamed very loudly and for a long time. So unrestrained that Mr. Max, her supervisor, was afraid she wouldn't be able to cope with it. But then she stopped screaming. For a brief moment she acknowledged the fact of her impending death and put her signature on the application for admission to the hospice. Mr. Max admired her for this achievement.
On the first day in the hospice, Ursula Appeldorn lines up her two dozen dolls on the dresser. Now everything feels like it did in her room in the apartment building. "I was very sick a few years ago," she says with a smile. "That was bad. But now I'm perfectly healthy."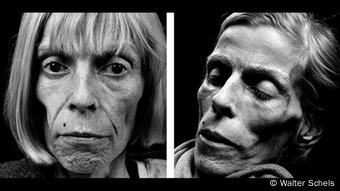 Barbara Gröne
51 years
Born on December 15, 1951
First portrait on November 11, 2003
Died November 22, 2003
Hamburg Beacon Hospice
From the beginning, Barbara Gröne felt that she had no right to live. Her mother hadn't wanted her. She placed the child in a home soon after it was born.
The child wants to survive. It builds barricades around its soul. Protective walls against fear. The most reliable is the discipline. A good performance is also a right to exist. Barbara Gröne works hard. She is a good student. She becomes a physiotherapist and becomes self-employed. Your significant other admires her energy. She succeeds. The store is running. You could sit back, finally.
Then comes the cancer, a tumor on the ovary, metastases in the lumbar vertebrae and in the pelvis. Nothing more to do. Suddenly fear returns. The old feeling of not being worth anything. The grief. Barbara Gröne, on the other hand, is completely defenseless. "All the effort was in vain," she says. "It's as if life itself has cast me out."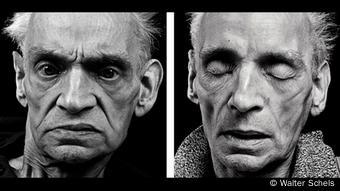 Jens Pallas
62 years
Born on April 13, 1941
First portrait on December 1, 2003
Died December 15, 2003
Hamburg Beacon Hospice
Jens Pallas looked very astonished when Sister Dagmar looked into his room at eight in the morning. She immediately realized that he had died. Mr Pallas had no illusions about the outcome of his illness: chronic obstructive bronchitis with emphysema. His suffering had started ten years earlier. Now it was approaching its climax. He assumed he would suffocate. However, no one, least of all Mr. Pallas himself, had expected such a sudden end.
Jens Pallas' cheek was still warm. Sister Dagmar could not find any signs of suffocation on his face. Just that astonished look, as if he wanted to say: What, that was it? She closed his eyes. "His weakened body just gave up," she said. "He had luck."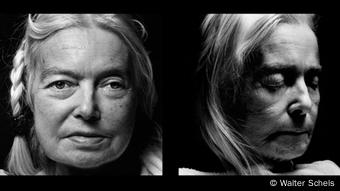 Edelgard Clavey
67 years
Born on June 29, 1936
First portrait on December 5th, 2003
Died on January 4, 2004
Hamburg hospice in the Helenenstift
Edelgard Clavey was chief secretary at the University Psychiatric Clinic. She has lived alone since her divorce in the early 1980s. She has no children. From her youth she was involved in the Protestant Church. She has not been able to get out of bed for a few weeks.
"Death is a life maturity test. Everyone has to pass it for himself," says Ms. Clavey. "I wish so much to die. I want to enter the great, incredible light. But dying is a very difficult business. Death rules, I cannot influence it. Just wait, wait, wait. I have mine Got life, I had to live it and give it up again.
I've always worked hard, almost in a diaconal sense: poverty, chastity, obedience. Now I'm no longer a power factor. That hurts me unbearably: I don't want to be a cost factor on the Berlin cadaver mountain. I want to go, preferably immediately. Always ready, like the boy scouts. "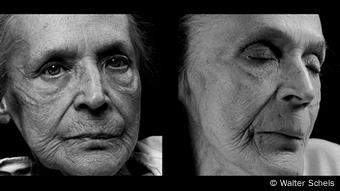 Klara Behrens
84 years
Born on December 2, 1920
First portrait on February 6, 2004
Died March 3, 2004
Sinus Hospice, Hamburg
Klara Behrens senses that it could soon come to an end. "Sometimes I hope it gets better," she says. "But when I feel so sick again, I don't even want to live anymore. I had just bought a new freezer! If I had known that beforehand ..."
It is the last day of February, the sun is shining, the first bluebells have bloomed in the courtyard. "I would love to go out to the Elbe. Sit on the stones and put my feet in the water. As children, we did that when we collected wood for heating by the river. In my second life I would do everything differently. Me Wouldn't have to haul more wood. But whether there is a second life? I don't think so. You only believe what you see. And you only see what is there. I'm not afraid of death. The millionth, billionth I'll be a grain of sand in the desert. I'm just afraid of dying. You don't know what's going to happen. "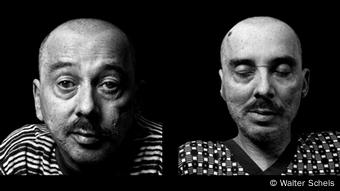 Michael Lauermann
56 years
Born on August 19, 1946
First portrait on January 11, 2003
Died January 14, 2003
Ricam Hospice, Berlin
Michael Lauermann is a manager. A workaholic. Suddenly he was upset. In the hospital it was said: brain tumor, incurable. That was six weeks ago.
Lauermann doesn't want to talk about death, rather about his life. How he managed to get out of the narrow Swabian region to Paris in 1968. Studied at the Sorbonne. Baudelaire, street battles, revolution, women. "I loved to live," says Lauermann. "It's over now. I'm not afraid of what's to come." Often enough he has broken all bridges behind him. It is the same now. He doesn't feel any regrets. The stage he is in now seems beautiful to him. Loose and free, a kind of weightlessness. His body disappears. He is in no pain. "I will die quickly," says Lauermann.
Three days later, a candle burns outside the door of his room. It indicates his death.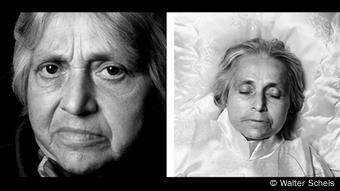 Gerda Strech
68 years
Born on February 7, 1934
First portrait on January 5, 2003
Died January 13, 2003
Ricam Hospice, Berlin
Gerda Strech can't believe it yet: cancer is killing her old age. "When my whole life was just work." In a soap factory, she worked on the production line, raising her children on her own. "Does it really have to be?" She cries. "I'm so scared. I don't know whether I'll go to heaven or the devil."
As her illness progressed, she went to church to pray. "Maybe God will help me," she had hoped. What came was constant vomiting. In addition, an intestinal obstruction. "It won't be long now," says Ms. Strech in a panic. Her daughter would like to comfort her: "Mummy, we'll all meet again sometime."
"That can't be. Either you rot or you get burned."
"But that has nothing to do with our soul."
"Oh, soul, soul ..." says Gerda Strech accusingly. "Where is the good Lord?"