Square Osage Orange 305x50x50mm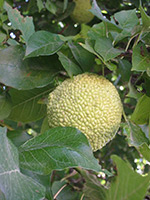 The Milk orange tree (Maclura pomifera), widely known as Osage Orange, also known as Osage thorn, Monkey Ball or Hedge Apple, comes from the south of today's USA - in particular from Arkansas, Oklahoma to the southern border of Texas. It can now also be found in Europe in Italy and Croatia. It can reach heights of growth of up to 15 meters and a crown diameter of 12 m. The fruits are quite large with up to 15cm. The tree is named Osage Orange from the Osage Indian tribe, which originally lived in the natural habitat. The Osage also discovered the wonderful suitability of wood for use as a bow.
The wood is very hard, dense and has a rather irregular growth - is therefore more demanding to work with. It's quite permanent. Freshly cut it is rather squeaky yellow, turns brownish over time. It is a very popular bow wood, but it is only split - the bows therefore also have one or the other natural "dangling".

---
Dimensions: approx. 305 x 50 x 50 mm
The piece shown is an example piece, you will receive a piece that is similar in grain and color.
The delivered pieces are dry and can be processed immediately.
---
Grain wood can contain imperfections such as open grain eyes, ingrown bark or cracks typical of growth. These flaws are due to growth, occur completely naturally and are usually easy to fill using thin cyanoacrylate (superglue) and wood dust.