SSRI

Drug groups

Antidepressants The selective serotonin reuptake inhibitors (SSRI) are active ingredients from the group of antidepressants. They are used for the treatment of depression, panic disorders, obsessive-compulsive disorder and anxiety disorders, among other things. Their effects are based on the selective inhibition of the reuptake of serotonin into the presynaptic neuron. This increases the concentration of the neurotransmitter in the synaptic cleft. Due to the long half-life of the active ingredients, a once-a-day intake is usually sufficient. SSRIs are prone to drug interactions and can prolong the QT interval. Common adverse effects associated with SSRI therapy are dry mouth, poor appetite, diarrhea, nausea, potency and libido disorders, yawning, sweating, headache, fatigue, dizziness and sleep disorders.
Synonymous: Selective Serotonin Reuptake Inhibitors, Selective Serotonin Reuptake Inhibitors
Products
The selective serotonin reuptake inhibitors (SSRIs, Selective Serotonin Reuptake Inhibitors) are mainly taken in the form of film-coated tablets or capsules. Other forms of administration such as dispersible tablets, orodispersible tablets and drops are also available.
Zimelidine was the first to be developed in the 1970s and approved at the beginning of the 1980s. Sales had to be stopped due to adverse effects. The second representative, Indalpin, was also soon taken off the market. Fluvoxamine was released as the third active ingredient in Switzerland in 1983.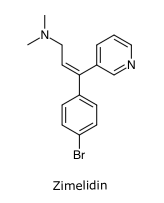 Well-known brand names are, for example, Prozac® (fluoxetine), Cipralex® (escitalopram) and Zoloft® (sertraline). Numerous generic drugs are also available today.
Structure and properties
The older SSRIs are analogues of 1st generation antihistamines. Zimelidine is derived from bromopheniramine and fluoxetine from diphenhydramine. The molecules were developed rationally based on the monoamine hypothesis.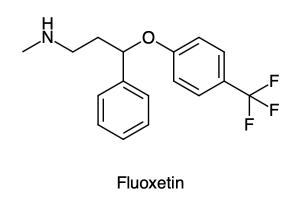 Effects
SSRI (ATC N06AB

) have antidepressant and mood-enhancing properties. The effects are based on the selective inhibition of the reuptake of the neurotransmitter serotonin in the presynaptic neuron. This increases the concentration in the synaptic gap. The drug target is the serotonin transporter SERT. The selectivity primarily relates to the comparison with older antidepressants such as the tricyclic antidepressants, which are nonselective.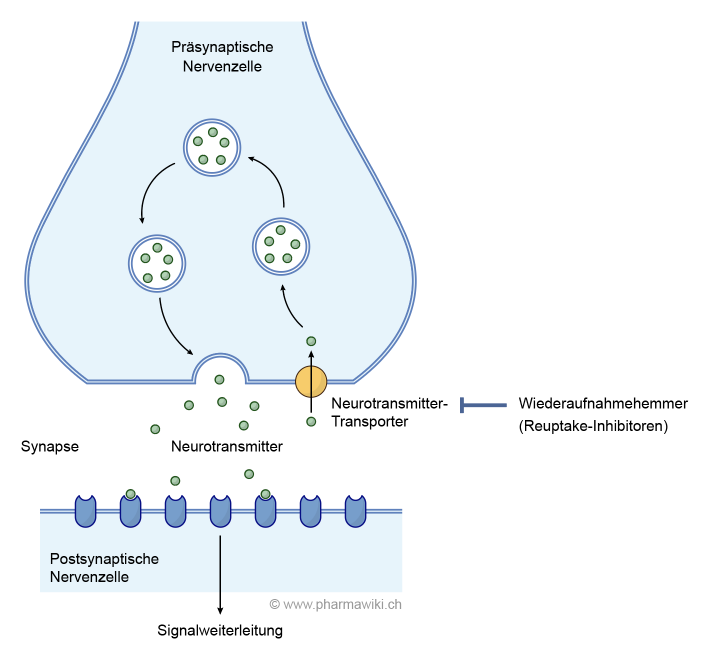 Mechanism of action of the reuptake inhibitors, click to enlarge. Illustration © PharmaWiki
Indications
The indications include (selection):
Depression prevention and treatment
Panic disorders
Obsessive-compulsive disorder
Social phobia
Bulimia (bulimia nervosa)
Generalized anxiety disorders
Post-traumatic stress disorder
Premature ejaculation (dapoxetine)
There are numerous other areas of application for which there is currently no approval from the authorities.
dosage
According to the specialist information. Most SSRIs are taken once a day because of their long half-life. The full effectiveness is usually delayed after two to four weeks.
abuse
In contrast to other centrally acting drugs, SSRIs are not misused as intoxicants.
Active ingredients
Closely related representatives such as trazodone (Trittico®) and vortioxetine (Brintellix®) are not counted among the SSRIs because they are also active on the serotonin receptors. They are called → SARI.
Contraindications
The complete precautionary measures can be found in the product information sheet. Many SSRIs are contraindicated in combination with MAOIs.
Interactions
Some SSRIs are substrates of CYP450 isoenzymes, such as fluoxetine from CYP2D6 and sertraline from CYP2D6 and CYP3A4. The combination with CYP inhibitors or CYP inducers can lead to drug interactions.
SSRIs can increase the QT interval. A combination with active ingredients that also prolong it can increase the risk of cardiac arrhythmias.
Serotonin syndrome can occur in combination with serotonergic drugs. For this reason, the simultaneous administration of MAOIs is also contraindicated.
There have been reports of abnormal bleeding with SSRIs. Therefore, interactions with NSAIDs and other drugs that affect blood clotting are possible.
unwanted effects
Common undesirable effects associated with SSRI therapy are:
Dry mouth, poor appetite, diarrhea, nausea
Ejaculation disorders, impotence, decreased libido
Yawning, sweating
Headache, tiredness, dizziness, trouble sleeping
see also
Antidepressants, SARI
literature
Pharmaceutical product information (CH, D, USA)
Barbui C., Esposito E., Cipriani A. Selective serotonin reuptake inhibitors and risk of suicide: a systematic review of observational studies. CMAJ, 2009, 180 (3), 291-7 Pubmed
Deshauer D. et al. Selective serotonin reuptake inhibitors for unipolar depression: a systematic review of classic long-term randomized controlled trials. CMAJ, 2008, 178 (10), 1293-301 Pubmed
Mace S., Taylor D. Selective serotonin reuptake inhibitors: a review of efficacy and tolerability in depression. Expert Opin Pharmacother, 2000, 1 (5), 917-33 Pubmed
Sneader W. Drug discovery: a history. Chichester: Wiley, 2005
Weilburg J.B. An overview of SSRI and SNRI therapies for depression. Manag Care, 2004, 13 (6), 25-33 Pubmed
author
Conflicts of Interest: None / Independent. The author has no relationships with the manufacturers and is not involved in the sale of the products mentioned.
Support PharmaWiki with a donation!
© PharmaWiki 2007-2021 - PharmaWiki provides independent and reliable information about medication and health.
This article was last changed on 5/12/2020.
Imprint and data protection declaration
Show products for this page