What inspires you in 2019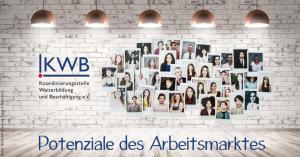 Dear Sirs and Madames,
is your company well positioned in terms of personnel for the next year? Do you have an eye on the legal innovations? Are your executives prepared for future challenges?
The current KWB newsletter presents a selection of publicly funded offers, management training, legislative changes and best practice companies that are breaking new ground in personnel recruiting. Get inspired and make plans for 2019!
Click here for the KWB newsletter December 2018.
On behalf of the KWB employees, too, I wish you a wonderful Advent season, an atmospheric Christmas and a lavish New Year's Eve party.
We look forward to continued good cooperation with you in 2019!
Greetings
Your Hansjörg Lüttke
Executive board member
P.S: If you like the newsletter, please let us put you on the KWB corporate mailing list!