How can I change my future
How travel will (hopefully) change in the future
In the last few weeks I have thought a lot about how we will travel in the future. No wonder: Never in recent history have travel and mobility been so severely restricted as it is now due to the pandemic. As a travel blogger, this affects me in particular: within a few days, all my travel plans, as well as my orders for customers from the tourism industry, vanished into thin air. And I would be lying if I said it wasn't a shock to me that I didn't have to digest first.
Obviously I had taken traveling for too long for too long. As a dream that I had managed to realize and to which I had even linked part of my professional future.
Never again will I take free travel for granted.
How would it go on now? "When will we be able to travel again?" I've been asking myself since March. In the meantime, I think it is clear to everyone that it will be a long time (if not years) before we can travel like 'before Corona' again - but should we? In addition to the question of "when", I am concerned with the question of "how". How could the first trips to Corona (resp. With Corona) look like? How will travel change in the future? It will at all change? I personally hope: yes.
Because we should, cannot continue as before.
Tourism must become more sustainable. Incidentally, I don't just think that since Corona, just As a travel blogger, I've been dealing with the topic for a long time. It seems as if we as human individuals have lost the connection to nature and our planet, but we urgently need to find this again and see ourselves as part of a larger whole. (After all, it's about nothing less than saving the world and our survival on this planet - just saying). In the process, we should be questioning a few things, and yes, this is going to be tough, but that includes the vacation that we know.
Don't get me wrong: not traveling at all is not a solution either. There are really many good reasons to travel (that would be the subject of another article), and some of them we may need more urgently than ever right now. And yes, I admit that I miss traveling, and I miss what it does to me. I want to feel free, alive, right in the moment. I want to be amazed, learn new things, get to know people, let my horizons broaden my mind, even if it is often exhausting. I want to hear the waves of the ocean rushing in, the sound of a foreign language around me, I want to taste foreign spices on my tongue again, see the sunset over the mountains.
But now it seems like a tiny virus has just pressed a reset button for the entire travel industry. And that doesn't just have to be bad, because, as we know, crises also bring a lot of opportunities.
Personally, I would like us to take the opportunity and ask ourselves how we can travel better, more consciously and more sustainably in the future.
I have written down a few thoughts on this here.
Stopover on a road trip across the Swabian Alb
Think smaller!
Long-distance tourist travel and air travel in general will probably not be possible for a long time. There will be no mass tourism in its old form again soon, also no flight package tours or trips to big events. But is it really that bad?
Instead of jetting halfway around the world and organizing spontaneous Easyjet city short trips over the weekend (I never really liked that anyway) we will be happy about the little things again: swimming in the lake, 'forest bathing', a sunrise after a night in the camper, stopping at an alpine hut after a hike, paddling, cycling, climbing together, enjoying local specialties. We will find something special in simplicity. After all, wasn't that exactly what we were looking for on our journeys into the distance, for example while staying overnight in the desert or in a simple bamboo hut on the beach?
What is new is that our radius will (of necessity) decrease.
Sundowner at the Tegernsee
Let's travel more local.
When we felt the whole world was still available to us, holidays on the Swabian Alb or on the North Sea might no longer be anything special. By traveling more locally in the future, we will learn again that we don't always have to wander far away to experience special moments, but that we can also have this in our closer surroundings in Germany and Europe.
We will learn to see our homeland through the eyes of a traveler and to rediscover it.
I have particularly enjoyed this 'Challenge' over the past few years. Because if my travels have taught me one thing, it is that you are confronted with yourself when you are abroad and also see your home with different eyes. Let's welcome the fact that travel options are currently limited and that we don't need "faster, higher, further, more adventurous"!
Instead, let's take Corona as an opportunity to support local and regional tourism. For me, this also includes a shorter, more sustainable journey, fewer emissions, and the conscious support of small local companies. In addition, more local travel conveys security, because the risk of being stuck, of flights being canceled or of being dependent on travel providers is lower.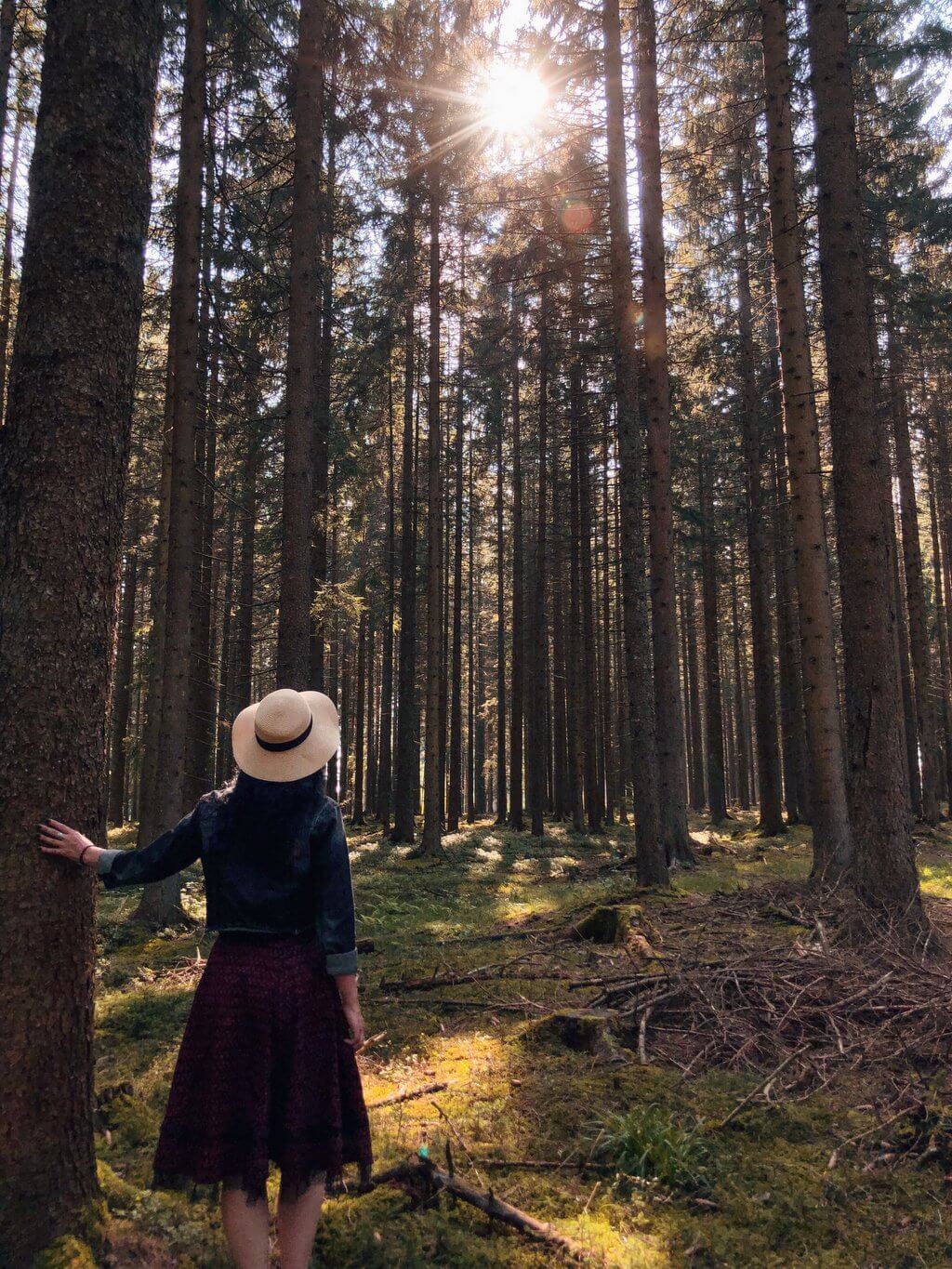 Forest bathing in the Black Forest
Slower & more mindful
I hope that the future of traveling will be a more conscious traveling. The "slow travel" trend announced a few years ago will be more topical than ever in the future. Why not just visit friends and family who are spread all over Germany? Are you traveling by train or car instead of flying? Are you planning slow overland trips in Germany or to neighboring countries, as we did before, when there were no flights? Traveling in the great outdoors, hiking and traveling by camper promises freedom - this summer more than ever, also before the virus and crowds.
For me, more conscious, more mindful travel also means that in future we will take a closer look at who we are giving our money to - be it when booking or on site. We should consciously support regions and local businesses and initiatives as well as look around for sustainable travel destinations, accommodation and travel providers (reminder to myself: write an article about this shortly!). But for that we also need one thing:
Travel offers with more "meaning"
In order for travel to become more sustainable and conscious in the future, it doesn't just need a new awareness among travelers. Destinations, travel providers and other tourism companies also have to develop new offers and, in connection with this, change their marketing. Why not use the corona crisis as an opportunity to develop visions that also enable more sustainable tourism in the long term?
However, visions alone are not enough; in the next step, specific new products and offers have to be developed (which we as consumers then actually use!). These could be travel offers, for example, in which encounters and experiences with locals and the support of small, local companies are in the foreground (keywords immersion, resonance experiences, learning new things), but also the protection and preservation of the environment. Many regions, especially in Germany, still have a rather 'uncool', dusty holiday image - partly rightly, I suspect. Why not just try something new here, new gastronomy and experience concepts, special accommodations, etc.?
If not now then when?
More local, more sustainable tourism instead of overtourism
Mass tourism and overtourism were already problematic before Corona, and now at the latest, destinations and providers must develop new approaches, not least because of the security regulations. This is where we travel bloggers come in again. Together with companies in the tourism industry, we could develop new offers, test them and help promote them.
We travel bloggers, too, should set a good example on our future trips, travel more consciously and no longer take travel for granted. In our collaborations, we should pay more attention to which companies and destinations we are promoting and demand approaches from our partners. In this way we can help each other and at the same time work to ensure that travel can become more conscious, more mindful and more sustainable in the future. Call me naive, call me optimistic, but I believe that the crisis also holds some opportunities for us.
Let's use it together!
And now I'm going to plan my first trip to Corona ... it will go to a wonderful (inner-German) travel destination. Stay tuned!
How do you think we will travel in the future? What are your first trips to Corona like? Feel free to write me a comment!
Sunset in the Black Forest last summer