We can study B Pharmacy easily
Are you interested in the manufacture and effects of pharmaceuticals? Would you like to advise people or do you already know in detail that you want to become a pharmacist? Then the way to get there is to study pharmacy. Here we give you an insight into the requirements and course content and list numerous universities and technical colleges where you can study pharmacy.
To put it very simply: In the pharmacy course you will learn the production, the correct dosage and the use of drugs. You become a specialist in medication, so to speak, and as such you are needed, because as Paracelsus said: "[...] the dose alone makes sure that a thing is not poison."
In practice, it means that the degree is somewhere between medicine and science and that you should definitely have an understanding of biology, chemistry, biochemistry and physics. These basics are linked to pharmacology and clinical pharmacy.
After completing a pharmacy degree, most graduates will go to a pharmacy, but there are still many other paths open, such as in research or the pharmaceutical industry.
An overview of the pharmacy studies
Matching universities and technical colleges
You have to meet the following requirements for studying pharmacy:
Matura or equivalent
Admission procedure - make sure you get information in good time so that you can meet the registration deadline for the admission procedure
Possibly an entrance test if there are too many applicants
Partial additional examination in biology and environmental studies if the subject was not successfully completed after the 8th grade
Latin (if you do not have any knowledge, you can take the supplementary examination until the end of your studies)
In some cases, English skills at level B2 are required
Bachelor's degree in pharmacy or
Relevant bachelor's degree or another equivalent degree. If equivalency is fundamentally given, exams may still have to be taken in the course of the master's degree in order to achieve full equivalency
personal requirements
Scientific understanding
The will and the motivation to read a lot of knowledge
discipline
Understanding of ethical principles
Good English knowledge
Social competence
Accurate working
Sense of responsibility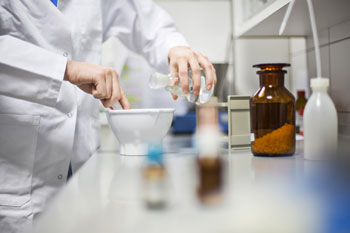 In the pharmacy course you will get to know all medicines from the ground up. And you learn to manufacture, develop and prepare medicines, to know their biological effects or to ensure the quality of them.
The pharmacy course comprises many sub-areas that are taught during the different semesters. The content is not only taught theoretically, but to a large extent also practically. At the beginning of the course, it is primarily the scientific and medical basics that you have to deal with - but they are indispensable for the further course of study. In the subsequent semesters you will deal with pharmaceutical-specific topics such as toxicology, chemistry, technology, biopharmacy and much more. Of course, you can also set individual priorities.
The contents of the studies in pharmacy include:
Introduction to Pharmacy
Introduction to the biological and chemical basics of pharmacy
toxicology
Drug synthesis and analysis
Anatomy and physiology
General pharmacology
Industrial drug manufacturing
Biochemistry and biogenic drugs
In other seminars, business administration is also taught and your soft skills are trained so that you can, for example, advise customers professionally.
After completing your bachelor's degree in pharmacy, you can of course add a master's degree. You can find the course not only under "Pharmacy", but also under "Drug Discovery ans Development", for example.
The master's degree goes even deeper than the bachelor's degree. You will gain extensive knowledge of what you have learned so far about the development and manufacture of drugs, but also about the storage and the biological effects and interactions of drugs.
Duration: 4 semesters
Graduation: Magister of Pharmacy (Mag. Pharm.)
Study model: Full time, distance learning
ECTS credits: 120
Particularities: partially optional semester abroad
Through the knowledge and skills, graduates of a pharmacy degree should be able to manufacture, develop, and prepare medicines, to know their biological effects or to ensure the quality of these. Pharmacists also play a central and prominent role in providing information and advice to patients and doctors.
In addition to these skills, you also have a good basic knowledge of related subject areas such as biochemistry, microbiology, physics and hygiene.
Although the things mentioned show the broad spectrum of competencies that was acquired in the pharmacy course, there is no uniform professional profile for pharmacists. Rather, the bachelor's degree has paved a good basis for the further path and you have a colorful bouquet of job opportunities.
The classic field of activity of pharmacists is of course pharmacies, in which the majority of the graduates also work. But there is also a need in the areas of government, industry, analytics and much more.
Possible fields of work at a glance:
Pharmacies
Hospitals
Pharmaceutical Industry
Pharmaceutical wholesale
Universities
Research institutions
Diagnostic laboratories
Investigation and testing facilities
Health authorities
Specialist publishers
How exactly your salary will look like after graduation depends on various factors. That is why the information we provide is only intended as a guide. According to Salary Compass.at, you earn a starting salary of between a good 2,500 euros and 2,800 euros gross per month.
Was this text helpful to you?
4,36/ 5 (Votes: 55)